Potato Salad (Salade de Pommes de Terre)
Potato Salad (Salade de Pommes de Terre)
This simple-to-make French potato salad is a delicious departure from the all-too-familiar mayonnaise variety. Cooking the potatoes in white wine and vinegar infuses them with even more flavor as they cook.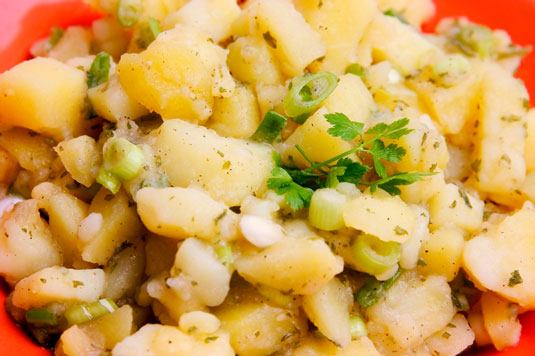 Credit: ©iStockphoto.com/adel66
Preparation time: 15 minutes
Cooking time: 20 minutes
Yield: 4 to 6 servings
2 pounds small red or new potatoes, pricked twice with a fork
1-1⁄2 cups dry white wine
1⁄4 cup white wine vinegar
1 teaspoon salt
1 small onion, finely chopped
4 tablespoons extra-virgin olive oil
2 tablespoons chopped flat-leaf Italian parsley
Salt and pepper to taste
Place the potatoes in a large pot with the white wine, vinegar, and salt. Bring to a boil and cook, covered, until tender, about 15 to 20 minutes.

Remove the potatoes with a slotted spoon to a serving bowl. Cut them into quarters. Sprinkle with the onion.

Bring the cooking liquid to a boil and reduce by half. Pour into a small bowl.

Add the olive oil and parsley and whisk together. Season with salt and pepper. Pour over the potatoes and toss well. Serve warm.