Gluten-Free Recipes
With these recipes in your wheelhouse, you'll forget gluten is even a thing. Amazing mains, breakfast ideas, gluten-free baking, and more.
Gluten-Free Recipes
Books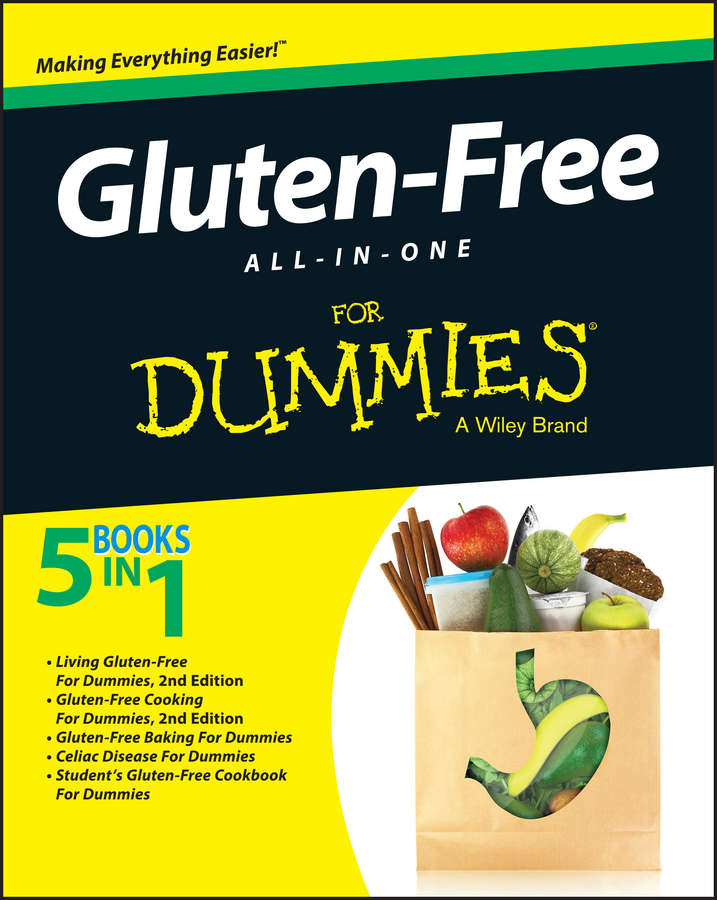 Gluten-Free Recipes
Gluten-Free All-in-One For Dummies
Published 05-26-2015
Everything you need to know about living a gluten-free lifestyle
As the prevalence of gluten-free dieting continues to grow—both from necessity and choice—more and more people are searching for a healthy way to cut gluten out of their lives. Gluten-Free All-In-One For Dummies culls a wealth of indispensable information from six popular For Dummies books, providing you with an all-encompassing, one-stop resource for living and eating gluten-free. From gluten-free cooking and baking to must-have information on celiac disease, this comprehensive and authoritative guide to all things gluten-free is the only reference you'll need as you navigate your way around a wheat, barley, and rye-filled world.
With nearly millions of households having at least one person who eats gluten-free foods, the need for a trusted and authoritative guide to living gluten-free has never been greater. Thankfully, Gluten-Free All-In-One For Dummies is here to offer expert guidance on making the switch to a life free of gluten.
Recognize the benefits of adopting a gluten-free lifestyle
Interpret food labels and stock a gluten-free kitchen
Cook delicious gluten-free recipes for every meal of the day
Make kid-friendly gluten-free meals, baked goods, and desserts
If you're a seasoned gluten-free eater or a newcomer to the diet, Gluten-Free All-In-One For Dummies is the perfect, all-inclusive guide to ditching the grains and living a healthier life.
Explore Book
Gluten-Free Recipes
Gluten-Free Cooking For Dummies
Published 11-05-2012
Prepare gluten-free dishes that are delicious and nutritious
Want to create tasty gluten-free meals and snacks? Gluten-Free Cooking For Dummies is loaded with more than 150 wheat-and gluten-free recipes. These sweet, spicy, and aromatic dishes prove that living the gluten-free lifestyle can be not only fun and easy, but delicious and nutritious too!
This practical, guide shows you how to find and select the right ingredients and prepare classic healthy dishes for breakfast, lunch, dinner, and dessert. You'll find out what you can and can't use in gluten-free cooking, learn to spot the hidden gluten in foods, discover surprising ways to save money when you go shopping, and even manage your weight. You'll also learn how to convert your current favorite recipes to gluten-free delights using ingredients you probably already have in your kitchen.
Covers the medical, practical, and emotional aspects of living gluten-free
Includes more than 150 tasty recipes, including gluten-free ethnic dishes and a section of quick and easy starter recipes, which is new to this edition
Shows you how to boost nutrition and flavor in your dishes
Gives you the know-how to make any meal gluten free
Complete with delightful lists of gluten-free comfort foods and kid's favorites, as well as tips for converting a kitchen to a gluten-free workspace, Gluten-Free Cooking For Dummies is the best way yet to stay happy, healthy, well-fed, and wheatless!
Explore Book
Gluten-Free Recipes
Living Gluten-Free For Dummies
Published 06-01-2010
Practical, delicious ways to manage a gluten-free diet
If you have a wheat allergy, gluten intolerance, celiac disease, or you just want to enjoy the benefits of a diet free of wheat, barley, and rye, then this guide is for you. Trusted author Danna Korn explains the medical problems associated with gluten and shows you step by step how to make the transition to a gluten-free lifestyle - and love it!
With 25% new and revised content, this easy-to-understand reference includes coverage of the most recent testing methods, an updated section on the link between a gluten-free diet and improving behaviors in the autistic, new information about the genetics of celiac disease, expanded coverage on the gluten-free certification process, increased nutritional information, and updated recipes and resources.
65 delicious recipes plus tips on eating out
Guidance on how to shop and decipher food labels Advice on how to raise happy gluten-free kids
Covering the practical, medical, and emotional aspects of the lifestyle, Living Gluten-Free For Dummies, 2nd Edition offers hope and inspiration as you make the switch to a life free of gluten.
Explore Book