This cold crab dip is quick and easy to prepare. Get out those gluten-free crackers and dive into this crabmeat dip at your next party!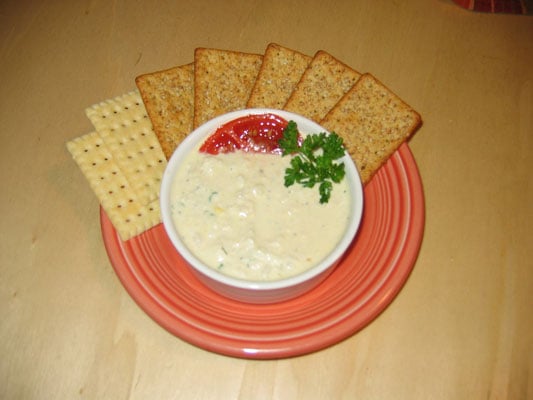 Preparation time: 10 minutes, plus 2 hours chilling
Yield: 2 cups
4.5-ounce can crabmeat
1 hard-boiled egg
1 green onion
1/4 cup mayonnaise
1/4 cup sour cream
1 teaspoon lemon juice
1/2 teaspoon dry mustard
1/4 teaspoon dried dill
1/4 teaspoon Worcestershire sauce
1/2 teaspoon dried parsley flakes
1/4 teaspoon salt
1/8 teaspoon pepper
Drain the crabmeat and then flake it in a medium bowl.

Shell and mince the hard-boiled egg.

Mince the green onion.

Add all the ingredients to the crabmeat.

Mix well to blend thoroughly.

Cover and chill the dip for at least 2 hours.

This time allows the flavors to blend.
About This Article
This article can be found in the category: