Instant Pot
Save precious time when you know how to make the most of your Instant Pot for delicious home cooking.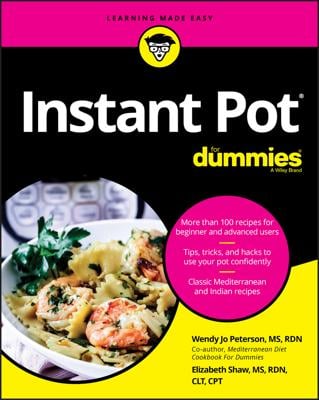 Instant Pot
Instant Pot Cookbook For Dummies
Over 100 Quick and Easy Recipes Wondering how get the most out of your Instant Pot or your favorite multi-cooker? This one-of a kind guide will walk you through what you need to know to start cooking with your Instant Pot today. It covers what you can cook to setting functions to keeping your pot looking (and smelling!) like new, plus what will happen step-by-step through the cooking process. You will also get over 100 tasty, family-friendly recipes for making delicious mains, appetizers, sides, breakfasts, and desserts—in a flash. Inside, you'll get the lowdown on getting to know your pot and all its features. Discover all that you and your Instant Pot can achieve, from cooking fluffy rice, beans from scratch, and creating roasts, soups, vegetarian, Mediterranean, Keto, and Indian dishes, to making homemade yogurt, baby food, and decadent desserts. Prep, set it, and go Compatable with Instant Potmodels and brands like Ninja All-in-One Multi-Cooker Get hours back in your day Save time without losing flavor Baby-friendly recipes Includes recipes to suit the entire family, including baby-friendly, keto, gluten free and vegan options created by two dietitians! Now you can serve up home-cooked meals in a fraction of the time of a slow cooker—without feeling guilty about not spending a lot of time in your kitchen.
Explore Book
Buy On Amazon