This article empowers and encourages you to be the boss of your Instant Pot. Sure, you may have been intimidated when you first unboxed it and heard its gentle roar, but rest assured, after you get to know the ins and outs of your Instant Pot, it'll start feeling like you own it (and not the other way around!).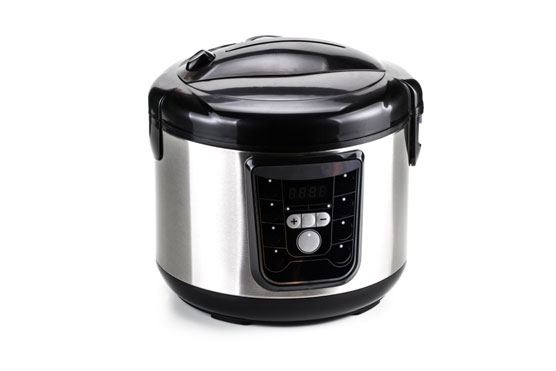 ©ALEX S/Shutterstock.com
When we say "Instant Pot," we're referring to whatever multiuse pressure cooker you have. Some of the tips in this article (like those having to do with error messages) are Instant Pot‑specific, but many of the troubleshooting tips can be used with whatever make and model of appliance you own.
Overcoming Your Instant Pot Fears
We've heard all kinds of stories about people who have purchased or been given an Instant Pot, but have kept it in their closets, waiting for the day when they had the courage to pull it out and dive in. If this sounds familiar, today is the day to unpack your pot and join us in the kitchen!

To help set you up for success (and give you a little encouragement to bite the bullet), here are a few tips we found helpful as we got comfortable with our own pots:
Unbox your pot. Seriously, just take it out of its box.
Wash the metal pot, trivet, and lid. You don't need anything special—just your standard dish soap.
Give it a trial run. Scared about ruining a recipe and creating food waste? Then just run a test trial using water for 1 minute under the Pressure Cook Get comfortable with the valve and setting it to Sealing. Use both a Natural Release and a Quick Release to remove the steam so you can see what both functions are like.
Keep your Instant Pot on the counter. Don't move your Instant Pot after you've done your trial run! If you put it back in the box or in a hidden cabinet, you probably won't use it. Keep it visible and have your grocery list ready so you can whip up your first Instant Pot recipe this week!
Start with a simple recipe. There's no reason you have to make a lasagna right from the start. Start with something simple, like a soup or bowl recipe. Starting with something simple will help you see the versatility of the Instant Pot.
We hope one or all of these tips will inspire you to take charge of your pot! Trust us, when you jump on the Instant Pot train, you'll never turn back.
Staying Safe When Using Your Instant Pot
We get it: The Instant Pot can seem like a hazard if you're new to pressurized cooking. So, here, we share a few important safety tips you'll want to follow. When you know how to use your pot safely, you'll be eager to use it every day!
Read your Instant Pot manual. Yes, we know how tedious that sounds, but seriously, read it. The manual has specific notes right at the start that pertain to your specific pot model to ensure you're using it correctly.
Avoid placing your Instant Pot near any external heat source (such as a stove or oven) and don't touch the hot surfaces of the pot. Use your Instant Pot away from your cabinets and other kitchen appliances that are in use. We recommend using oven-safe mitts or the silicon mitts you can purchase with the pot.
Only use your pot for its intended purpose. Don't try to start a fire and make s'mores in the pot! And don't use the pot outside. The Instant Pot is intended for household use only.
Make sure that your Instant Pot is securely closed before using it. Don't move your Instant Pot when it's under pressure.
Before you use it to cook something, check out your Instant Pot's functions. Make sure the steam-release valve/handle, steam-release pipe, anti-block shield, and float valve are clear of clogging. (Don't know what those are? Read your manual!) If any of these things are clogged, refer to the Instant Pot manual for a quick fix.
Don't touch the steam! You can get a serious burn from the steam. Avoid placing your hands anywhere near or around the steam release valve/handle or float valve while the pot is depressurizing.
Don't allow children or anyone who has reduced capability to perform common kitchen skills to use your Instant Pot. We usually encourage getting kids involved in the kitchen, but kids have no business operating an Instant Pot. Allow kids to get involved in your Instant Pot meal by chopping, adding, or mixing the ingredients that go into the pot before pressure cooking. When it's time to release the pressure, have the kids step away and allow able-bodied adults to work with the pot.
Do not submerge the cooker base in water. Avoid getting the electrical cord wet and only use your pot with North American–compatible outlets. The Instant Pot is not designed for converters or adapters.
To unplug your Instant Pot from the power outlet, press Cancel first; then remove it from the power source. When cleaning your pot, also make sure it's unplugged.
Troubleshooting Your Instant Pot
As much as we wish we could be in the kitchen with you as you experiment with your pot, we know that's not possible. So, this section offers troubleshooting tips to refer back to when you encounter some of the most common problems that arise as you get to know your Instant Pot.
If you have trouble closing the lid: Try repositioning the sealing ring to make sure it's nice and snug. Or, if the float valve is popped up, try pressing it down with fork prongs or another long utensil. Finally, if you're reheating something that perhaps didn't cook all the way, press Quick Release until the valve is in the Vent position; then slowly lower the lid back onto the cooker base to close.
If you have trouble opening the lid: Be patient! This problem is likely because there is still pressure built up inside the pot. Do not try to force open the pot — you may experience severe burns if you try to do so. Make sure that the valve is set to Venting, and let the pot release the pressure free of obstruction.
If steam escapes from the lid while the pot is pressurizing: We've seen this when the sealing ring isn't installed properly or needs to be cleaned or replaced. Make sure your vent is fully set to Try these solutions, and if they don't work, contact Instant Pot customer support.
If steam escapes from the valve while it's in the locked position: This can happen for a few reasons, but typically it's related to not having enough liquid in the inner pot or improperly setting the steam release valve. Try adding more of a thin liquid and make sure the valve is set to Sealing.
If strange cracking sounds are coming from the pot: Some sounds are totally normal while the pot is coming to pressure, but other sounds are related to moisture on the outer surface of the inner pot. Wipe down the outer edges of the inner metal pot and always make sure it's fully dry before inserting it in the cooker base.
Here are some common error cods you may encounter and a guide to what they mean:
C1, C2, C6, C6H, or C6L: There's a faulty sensor in the pot. Contact Instant Pot customer support.
C7, NoPr: If the Instant Pot heating element is no longer functioning, you need to contact Instant Pot customer support. However, you may also encounter his error code if there's not enough liquid in the pot or the valve isn't in the correct position. Try adding more water and/or checking to make sure the valve is in the sealing position before contacting customer support.
C8: The wrong inner metal pot has been inserted. Use the pot that is made for your Instant Pot.
Lid: Open and close the lid. Also, note that no lid should be used for the Sauté
OvHt, Burn, Food burn: When food particles (especially starchy foods like tomato sauce) build up on the bottom of your inner pot, you'll see this error code. Press Cancel, turn your Instant Pot off, release the pressure, and make sure the bottom of the metal pot is free of any food residue that is adhering to it.
PrSE: Change the valve to the Vent
If you encounter any other error code during your Instant Pot journey, don't fret! Just contact the customer support team for your pressure cooker — they can assist you in navigating any uncharted waters you encounter.
Getting Answers to Common Instant Pot Questions
Here are a few of the most common Instant Pot questions we've come across:
What's pot-in-pot (PIP) cooking? PIP cooking is when you prepare your recipe in a pot that is specifically designed for the Instant Pot and then is placed inside the metal inner pot within the Instant Pot base to do its cooking.
Often, recipes like cheesecakes, lasagnas, dips, and baked goods are prepared with the PIP style of cooking. We highly recommend investing in a few basic Instant Pot accessories so you, too, can enjoy a delicious slice of the Cinnamon Walnut Monkey Bread.
What adjustments are necessary for high altitudes? Many Instant Pot models have built in technology that adjusts for altitude changes automatically. So, rest easy if you're cooking up in the Rockies or traveling through Yosemite — your Instant Pot will provide you with the same high-quality, dependable results you'd get at sea level.
Is it safe to leave the Instant Pot on when I'm not home? Unless you have the models that allow a delayed start or Bluetooth capabilities to turn on and off your pot, we recommend that you plan your recipes around the times you'll be home. However, we highly encourage multitasking, and if you're waiting for a roast to cook, by all means, jump on a call, run on your treadmill, or head out into the garden. Just keep an eye on the clock so you know when to go back to perform the designated pressure release.
You can put frozen foods, even meat, into the Instant Pot to help shave time! Consider prepping meals ahead of time, so you can easily dump in the contents, set the pressure, and move on to other pressing tasks.
Can I wash the Instant Pot in the dishwasher? Yes, you can! Or at least you can wash many of the pieces of the Instant Pot.
About This Article
This article is from the book:
This article can be found in the category: