The best part about using the Instant Pot to cook your favorite meats is the endless possibilities those leftovers can provide. We're big fans of saving time (and sanity) in the kitchen, and leftovers do just that. But we're not about to tell you to eat the same meal five days out of the week. (Of course, if that's your jam, no judgment!)

Having a variety of quick and convenient ways you can repurpose that pulled pork or roasted chicken is crucial to not only keeping your love for the Instant Pot alive, but also satisfying your taste buds and encouraging creativity in the kitchen. Use this chapter as a guide to think outside the box when it comes to carrying over your favorite pulled meats.
Bowls made with Instant Pot leftovers
You can whip up a bowl on a whim by using the pulled meat from your latest Instant Pot meal prep day and highlight it in your bowl. Made pork instead of the chicken called for in the Mediterranean Bowl with Feta and Herb Yogurt Dressing? Don't fret! Use pork instead, and rest easy knowing you'll still be getting plenty of solid nutrition like protein, vitamin B12, and many other nutrients.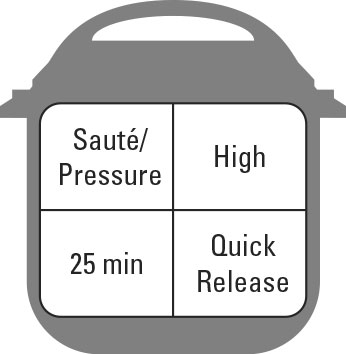 Mediterranean Bowl with Feta and Herb Yogurt Dressing
Instant Pot function: Sauté (High), Pressure (High), Keep Warm (Off), Quick Release

Fits diets: Gluten-Free, Mediterranean

Prep time: 20 minutes

Cook time: 25 minutes

Yield: 4 servings
Ingredients
2 small chicken breasts, cubed
1/4 cup extra-virgin olive oil
Salt and pepper, to taste
1 cup dried garbanzo beans, soaked overnight and drained
1/4 cup farro
1/2 small onion, chopped
2 cups chicken stock
2 garlic cloves, chopped
1 teaspoon oregano
1/2 teaspoon salt
1/4 teaspoon black pepper
1 avocado, peeled and sliced, for garnish
1/2 cup black or green olives, for garnish
1 medium bell pepper, thinly sliced or 1/2 cup chopped, canned red bell pepper, for garnish
1 medium tomato, chopped, for garnish
1/2 cup fresh grated carrot, for garnish
1/2 cup fresh basil, chiffonade (see following figure), for garnish
1/2 cup chopped walnuts, for garnish
Feta and Herb Yogurt Dressing (see the following recipe)
Directions
Set the Instant Pot to Sauté (High) and place the cubed chicken breasts and olive oil into the pot. Sauté for 10 minutes, stirring occasionally until fully cooked. Remove the chicken from the pot, season with salt and pepper to taste, and set aside.
Place the garbanzo beans, farro, onion, chicken stock, garlic, oregano, salt, and pepper in the inner pot of the Instant Pot. Secure the lid and set the valve to Sealing. Press Pressure Cook (High) and, using the +/– button, set the timer to 15 minutes and Keep Warm (On). When cooking has completed, allow do a Natural Release for 10 minutes.
Press Cancel, using Quick Release to remove any additional pressure from the pot. Carefully remove the bean and farro mixture and set aside.
Assemble the bowls by placing 1/4 of the bean and farro mixture on the bottom of each bowl. Add a single line of cooked chicken cubes down the center of each bowl. Decorate the bowls with avocado, olives, bell pepper, tomatoes, and grated carrot. Top each bowl with basil and walnuts.
To serve, drizzle with Feta and Herb Yogurt Dressing or a quick squeeze of fresh lemon and olive oil.
Feta and Herb Yogurt Dressing
Fits diets: Gluten-Free, Mediterranean, Vegetarian

Prep time: 3 minutes

Cook time: None

Yield: 8 servings
Ingredients
1 cup plain yogurt
1/4 cup crumbled feta
2 tablespoons chopped dill
2 tablespoons chopped parsley
1/2 teaspoon salt
1/2 cup grated cucumber
1 garlic clove, chopped
1 green onion, chopped
Directions
Place all the ingredients in a bowl and whisk together. Serve immediately.

If you prefer a smoother dressing, you can skip the chopping and just blend all the ingredients in a blender.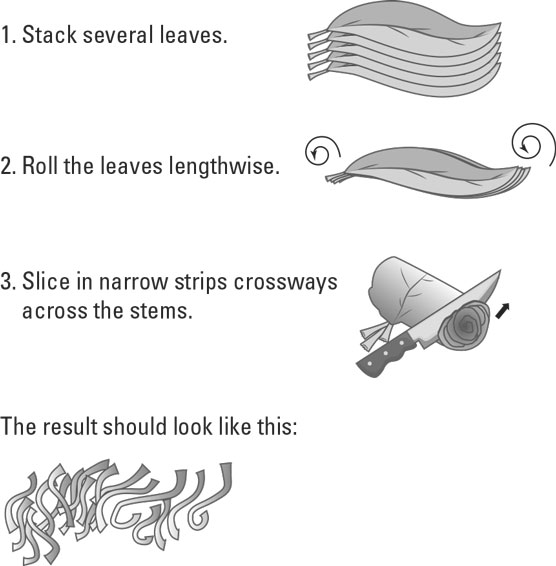 How to chiffonade.
Casseroles from Instant Pot leftovers
Casseroles are not just reserved for ground meats. Pulled meats, like chicken, pork, and beef, make excellent additions to your favorite comfort classic casserole recipes. The meats are precooked, so you should be able to adjust the cooking time a bit to throw dinner together more quickly.

Every recipe will vary so a general rule of thumb is to allow yourself the time to be able to keep an eye on the recipe while it's cooking on your first run through, so you don't end up with an overcooked casserole!
Enchiladas with Instant Pot leftovers
Enchiladas are a family favorite in our homes. Simply shred your leftover meat into even pieces. Using your Instant Pot and 7-inch springform pan, make a quick enchilada lasagna in just under 14 minutes! Just as you would with a traditional lasagna, layer your tortillas, cheese, sauce, and leftover meat. You can even kick it up a notch by adding in precooked vegetables you may have on hand.

Make it gluten-free by using corn tortillas.
Add leftover meats to omelets
Power up your breakfast and make a protein-packed omelet. Omelets are a go-to food recommended on most keto and paleo diets. Plus, they're easily customizable for the entire family. A nice way to kick off a weekend would be to use up any leftover meats you had from the week and create your own in-home, build-your-own-omelet bar! Not only will you save a ton of money (because you won't be dining out), but you'll also help clean out your fridge to get ready for Sunday meal prep. Some of our favorite combos include pairing your garden-fresh vegetables like tomatoes, bell peppers, and fresh cilantro with leftover carnitas.
Salads featuring Instant Pot leftovers
It's pretty obvious you can throw whatever pulled meat you have on a delicious crisp salad any season of the year. But this tip uses those pulled meats in a way that you may not have thought of before: yogurt-based salads!

Yes, you can amp up the nutrition of those traditional mayonnaise-based salads by using a blend of plain yogurt and mayonnaise (or if you're a yogurt fan, just use it entirely in the recipe and hold the mayo). We recommend using fresh herbs to enhance the flavor of your salads, although the meats are seasoned when cooked. Serve them atop a bed of butter-leaf lettuce and whole-grain crackers for a simple yet satisfying meal.
Sandwiches with hearty pulled meat leftovers
Did your house suddenly become a landing spot? Don't stress, you can feed your friends and family with a quick sandwich platter using that leftover pulled meat.

Take out whatever bun or bread you have (even hot dog buns cut in half will work well for this) and assemble a variety of hot and cold sandwiches with whatever meat you have on hand. Plus, you can easily take your hot dog bun pulled pork sandwich to a new level by adding a drizzle of a homemade dressing. Your guests may even think you had them catered in with that gourmet touch!
Add leftover meats to soups
Boost the protein of those vegetarian classic soups like minestrone soup and other vegetable-based soups by tossing in leftover pulled meats! If you're making them in the Instant Pot, simply wait until the cooking completes for your soup, and stir in the pulled meat pieces at the end. Carry-over cooking from the pressure of the pot will naturally reheat the meat (without toughening it) to the proper temperature that's safe to consume!

If you plan to use a leftover pulled meat in a soup that uses a bone-based cut of meat, it may not have the depth of flavor intended (bones naturally add flavor to the broth). So, you may need to add a little beef, chicken, or pork-based bouillon to amplify the flavor.
Tacos featuring Instant Pot leftovers
Tacos aren't just for Tuesdays! We highly encourage you to keep tortillas on hand so you can enjoy those leftover pulled meats in taco form any day of the week. Craving barbecue? Take that tortilla, stuff it with your pulled meat, and top with cabbage slaw and barbecue sauce and you've got yourself a portable taco sandwich that most Texans would be proud of. A double bonus: Tacos can be made in just about anything that folds! Following a low-carb diet? Swap lettuce leaves for the tortilla.
Tamales with meat cooked in your Instant Pot
Whether you're preparing tamales for the holiday season or just because it's a Thursday, leftover pulled meats are a huge time-saving hack! Instead of spending the time and labor involved in making the meat from scratch on the day of your tamale assembly, batch cook the meat ahead of time and it'll be ready to go when you're ready to assemble. Also, just think of the fewer number of dishes you'll have if you use leftover meat this way! A win-win!
Toast with avocado and pulled meat
Avocado toast is super trendy (and delicious) but it's often lacking an important nutrient group that could really help leave you more satiated and satisfied hours after enjoying it: protein! Those leftover pulled meats all pair wonderfully shredded, heated, and topped on your avocado toast morning, noon, and night. We recommend taking this simple recipe up a notch by adding pickled vegetables and red pepper flakes on top.
About This Article
This article is from the book:
This article can be found in the category: