Bread
Whether it's rye, spelt, or sourdough, learn how to make your dough rise above the rest.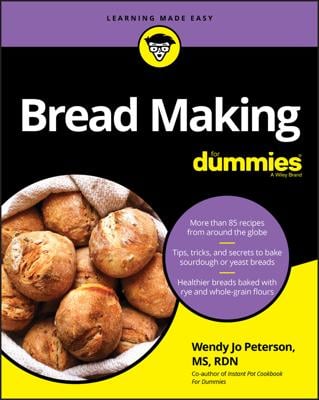 Bread
Bread Making For Dummies
Craving fresh-baked bread? The 2020 pandemic has highlighted our love of bread, especially when it was nowhere to be found! Bread making took center stage for many of us stuck at home and craving comfort food. Fresh baked bread definitely soothes the soul. As it should — bread baking has been a tradition for thousands of years and across all continents. Bread Making For Dummies explores the science behind the art of bread making and our cultural connection to wild and commercial yeasts. Break out your kitchen scale and favorite wholesome grains and join us on the journey, from classic German Pretzels (Brezeln) to warm Salted Pecan Rolls to Rustic Sourdough. Popular culinary author and dietician Wendy Jo Peterson has your foolproof loaf, flatbread, and roll needs covered. If you want to really start from scratch and culture your own yeast—no problem! She'll also let you in on the secrets of the fashionable no-knead and sourdough recipes that have been drawing chefs' kisses of discerning delight from bread-aficionados for the past decade. With Bread Making For Dummies: Discover the tools and ingredients needed in bread making Grow your own sourdough starter Form savory or sweet loaves Stuff breads for a complete meal Boost the nutritional quality of breads with wholesome ingredients, like nuts, seeds, and old-world grains Whether you're a nervous newbie or a seasoned, floury-aproned baker, Bread Making For Dummies is the beginning of a delicious, doughy adventure — so get your butter knife ready and discover just how easy and extra-tasty home bread-making can be!
Explore Book
Buy On Amazon