Glycemic Index
Load up on low-glycemic dishes authored by expert chefs. Healthy eating was never more delicious.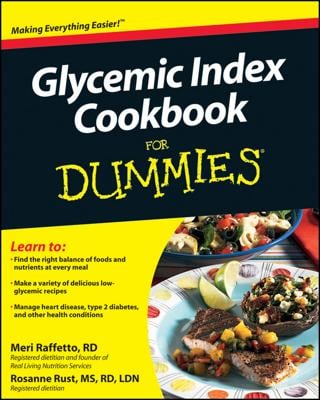 Glycemic Index
Glycemic Index Cookbook For Dummies
Keep a low GI diet with delicious and simple recipes Using the glycemic index is not only a proven method of losing and maintaining weight safely and quickly, it's also an effective way to prevent the most common diseases of affluence, such as coronary heart disease, diabetes, and obesity. Now you can easily whip up meals at home that will help you shed unwanted pounds and stay healthy with the Glycemic Index Cookbook For Dummies. 150 delicious and simple recipes with a glycemic index and glycemic load rating level for each Includes breakfast, lunch, dinner, on-the-go, vegetarian, and kid-friendly recipes Full-color insert showcases many of the book's recipes If you're one of the millions of people looking for a safe, effective, and easy-to-follow diet with proven results, Glycemic Index Cookbook For Dummies has all of the information and recipes that will get you well on the way to a healthier you.
Explore Book
Buy On Amazon