Indian Recipes
Would like some naan with your Chana Masala and your Aloo Gobi? Indian food junkies and newbies alike will love learning the secrets behind the world's most aromatic cuisine.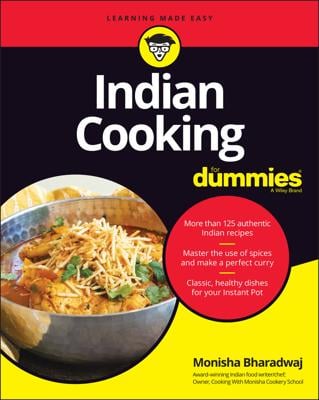 Indian Recipes
Indian Cooking For Dummies
Taste the real thing and discover the delights of home-cooked Indian food Indian food—delicious, diverse, and not as difficult to cook as you might think! In Indian Cooking For Dummies, you'll learn the fundamentals, plus over 100 make-at-home recipes for your Indian favorites. Even newbie cooks will have no trouble making these easy and delectable dishes right at home. With this book, you've got a suite of recipes to suit every dietary need (vegetarians, rejoice!), spice tolerance, and skill level. When you crave a Bengaluru breakfast, Lucknow lunch, or Delhi dinner, Indian Cooking For Dummies is for you. Inside, you'll learn the steps and secrets used in all the regions of India, so you can create a perfect, balanced Indian meal in your kitchen. With pro suggestions and tips about key ingredients and dish pairings, you'll be eating healthy, hearty, flavorful food in no time. Imagine your own stay-at-home buffet of rice, Indian breads, curried meats, creamy lentils, aromatic vegetables, raitas, chutneys, relishes, and more. Hungry yet? Cook authentic Indian appetizers, snacks, main courses, desserts, drinks, and popular vegetarian dishes Discover regional Indian cuisine and the ingredients, techniques, and spices unique to each Eat healthily and cook from scratch, without spending too much time in the kitchen Enjoy expert advice on how to make a meal for one or feed a large family, Indian style For flavor, aroma, variety, and sheer pleasure, Indian food is tops—and you can make it yourself, with this friendly Dummies guide!
Explore Book
Buy On Amazon