Cooking Indian food at home is exciting and easy! All you have to do is say is yes to adventure and to new flavors and techniques. After you've embraced spices and understood how the building blocks of a curry work, you'll be putting one together in no time at all. Having the right ingredients at hand as well as some essential tools will make the process fun and consistently successful.
Basic Indian ingredients
You probably have some of the ingredients you need already in your pantry but going shopping to buy those you don't will be definitely be a fun trip!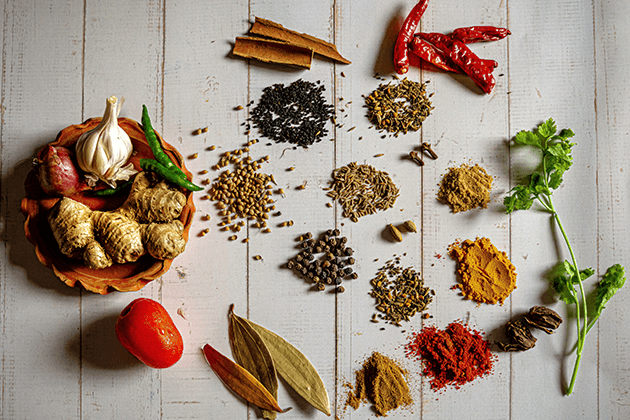 Here are some spices and herbs you'll absolutely need to cook Indian food:
Turmeric
Kashmiri or medium hot chile powder
Ground cumin and cumin seeds
Ground coriander and coriander seeds
Garam masala
Black or brown mustard seeds
When you've mastered your basic recipes and feel more confident, you can add the following:
Dried fenugreek leaves
Cardamom
Cinnamon
Ajowan
Whole dried chilies
Asafetida
Amchur
Having the following staples in your pantry means that you can put together a healthy, delicious meal in a matter of minutes:
Basmati rice
Whole-wheat atta flour
Two or three kinds of lentils and canned beans
Tamarind and vinegar
Indian pickle (achaar)
Cans of chopped tomatoes
Cans of coconut milk
Ghee
Basic Indian kitchen tools
If you've been cooking for a while, you'll have everything you need to prepare your Indian meal such as pots and frying pans. Your kitchen drawer may also have a peeler, a grater, and a few ladles. Here are a few specialized tools that you'll need for some recipes.
Indian rolling pin: An Indian rolling pin is tapered so you can control the pressure you apply
Karahi: A round-bottomed stovetop pot to cook curries in
Tava: A slightly convex griddle pan for cooking Indian stovetop breads
Spice tin: A tin for storing your spices away from light and air, all in one place
Blender: A powerful one to blend curry base sauces
Pressure cooker or Instant Pot: To save you time and effort!
Mortar and pestle or electric spice grinder: To crush spices quickly and efficiently
Garlic crusher: A plastic, twist one that can be cleaned easily (unlike a garlic press)
Basic Indian kitchen techniques
Every cuisine has some techniques that are essential to make it work. Knowing a few key ones (to make sure that the spices don't burn or the curry isn't too watery) will help you feel more relaxed and get you cooking like a pro.
| | | |
| --- | --- | --- |
| Technique | What It Does | What You'll Need |
| Marinating | Takes the flavors of the spices, aromatics, and salt deep into the meat and can tenderize it, too. | A bowl to hold the meat and plenty of time — it can be an overnight job. |
| Tarka | Blooms the spices and fries aromatics in hot oil, which helps to distribute their flavors through the dish. Can be done at the start or at the end of cooking. | A small pan |
| Bhuna | Sautés or stir-fries ingredients such as meat, onions, and spices in some fat over a high heat. Small quantities of water are added and allowed to evaporate off until the ingredient is cooked enough. It causes the oil to separate, which is a sign that the spices are cooked and that the flavor has intensified by letting the water cook off. | A frying pan or karahi |
| Tandoori | Cooks food in a coal-fired clay oven at very high temperatures. Makes the food taste smoky. | Tandoor |
| Dhungar | Creates a smoky flavor in a sealed pot by placing a small bowl with live coals in it. A substitute for tandoori cooking in a home environment. | Small bowl, coals, and ghee |
| Dum | Cooks food in steam, in a sealed pot. | A pot with a tight-fitting lid and a ball of dough to use as a sealant |
How to make a curry
Curry could be called India's signature dish, but of course, all Indian food is not curry. Whipping up a curry in your own kitchen is simple when you understand the sequence of adding ingredients to the pot. Remember to let each component cook to the right point before adding the next one.
Choose the right oil as well as the correct amount. You'll need an oil such as sunflower or canola that stays stable at high temperatures and enough to cover the base of the pan you're using.
Bloom the whole or seed spices. Whole spices need a high temperature to split open and release their volatile oils. To stop them from burning, start them in cold oil and bring them up to a searing heat slowly.
Fry the onions. This is the bit where patience comes in handy. Onions cooked until they're very soft bring a natural sweetness and depth to the sauce.
Add ginger, garlic and fresh chilies. Aromatics are what will give your curry a layer of complexity, so don't skimp on these. Find a variety of chilies you enjoy, and control the pungency by deciding how many to add. There's no magic number, and you can leave them out if you prefer. There'll be other ingredients, such as pepper and ginger, that bring in heat.
Sprinkle in the ground spices. These also need high temperatures to bring out their flavors, but they can also very easily burn. Have a cup of cold water handy and pour in a few tablespoons when the spices sizzle. Let the water cook off before adding the next ingredient.
Tip in the tomatoes. Use fresh, canned, or paste, depending on what's available and how intense you want the color and flavor to be.
Mix in the main ingredient. If your main ingredient is from the vegetable family, it won't need to be seared to seal in its juices the way meat and poultry do — add this to the pan now. Foods that benefit from being seared (like meats) can go in before the tomatoes.
Pour in a liquid. Most curries need water to create a sauce. Some ingredients such as mushrooms, meat, and tomatoes release their own juices, so be cautious how much fluid you add. Some recipes use coconut milk or milk instead of water. You can always add more, but you can't take it out. Homestyle curries are thinner than commercial ones because they're often used to saturate the rice that goes with them.
About This Article
This article is from the book:
This article can be found in the category: