Starting an online business or growing an existing e-commerce business doesn't have to be hard. Lots of resources are available to help you do everything from creating content for your website to building a long list of loyal customers. Being a savvy online entrepreneur also means learning to use social media to promote your business. Try these suggestions and quick tips for launching your website and engaging your customers.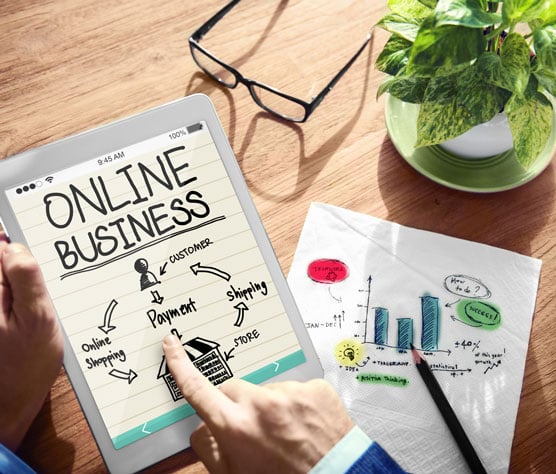 ©Rawpixel.com/Shutterstock.com
How to Build Loyal Online Customers
Getting traffic, or visitors, to your website is only the first step in building your online business. To be successful, you want to convert visitors into customers who keep returning to your site. Use these simple tips to build a loyal following of happy, satisfied customers for your online business:
Offer multiple ways for customers to communicate with you (including e-mail, phone, real-time online support, online forums, and social media).
Use video to provide a better view of your products or to offer suggestions on how to use the products.
Engage customers by providing ways to interact with your site, such as participating in online communities, writing product reviews, and commenting on blogs.
Connect with customers through social media sites such as Facebook, Twitter, YouTube, Instagram, and LinkedIn and keep customers interacting with your online brand.
Make customers feel special by sending loyalty discounts and other exclusive offers to your registered users or frequent buyers.
Send customers tips or brief articles that are fun or innovative or that show how to use your products or services to save time or be more productive.
Give customers several payment options, including deferred payments, to make buying easy.
Offer free shipping — no strings attached.
Make it easy to return products.
Reward top customers with access to special online events and offer a sneak preview of new products. Solicit input on new products or services from customers who are frequent buyers or active brand advocates in social media.
Find creative ways to thank customers for visiting your site and for making a purchase.
Important Website Resources for Your Online Business
As an online business owner, it's important to have access to many different types of information for starting and managing your website. The following online resources can help you with everything from protecting your site by registering trademarks to operating more efficiently by buying postage online:
Checklist for Launching a New Website
When creating a website, you must complete several steps before you can take your site live. The following checklist includes small but important details to help ensure that your website is functional and appeals to your online customers.
The site map — the layout and structure of all web pages — is complete.
The site map matches the web pages — exactly.
Each website page is displayed and is fully accessible.
Every link throughout the site works properly and opens the appropriate page.
All graphics, photos, and videos load quickly and completely, and the images are crisp and clean.
The content is free of misspellings and grammatical errors.
Pricing information and product or service descriptions are correct.
Pages with online forms or registration information function when you click the Submit button, and the information is sent (in the specified format) to the designated point of contact.
Text boxes or drop-down boxes on forms and other pages work correctly.
Buttons or links for top-level menus work. These buttons, like the one that returns users to the home page, function properly on every single page.
Special commands that are spelled out with coding language (HTML or PHP, for example) are displayed properly when the site loads.
The credit card processor or other payment service option is in place and working.
All e-commerce-related functions, such as the shopping cart, operate correctly.
Membership icons or logos, such as Better Business Bureau or Chamber of Commerce member emblems, have been included.
Social media sharing icons for Twitter, Facebook, LinkedIn, Pinterest, and other social networks are promoted on applicable pages across the site and are easy to see.
The site has been tested for browser compatibility and screen resolution.
Pages are responsive and the site is displayed properly in all mobile formats.
Contact information using the company's e-mail address or phone number is clearly displayed and easy to find.
Privacy, shipping, and return, and other use policies are clearly visible and easily accessible.
The copyright symbol and current year are placed prominently at the bottom of every page.
Using Social Media to Promote Your Business
Social media marketing is an inexpensive way to promote your website and to keep new and existing customers chatting about your business. Here are some quick and easy tips for using some of the most popular social networking sites — Facebook, Twitter, YouTube, LinkedIn, and Pinterest — to help drive interest and customers to your business:
Facebook

Set up a business page on Facebook and post special offers (at least once a month) to all those who Like your page.
Ask customers to share pictures on your Facebook page that show them using their favorite product that they bought from your website.
Reduce your workload while expanding your marketing efforts on Facebook: Instead of managing both a business page and a personal page, simply allow subscribers on your personal Facebook page. Subscriptions allow you to send public updates that your subscribers can view. Subscribers can be customers, vendors, and anyone else who is interested in seeing your public posts — just as they would on a business page.

Twitter

Use Twitter to tweet interesting or unusual facts about your business or products and provide a link to that product page on your site.
Send out short tips via Twitter on how to use your services or products.
Follow customers and vendors as well as influential bloggers, journalists, industry analysts, and others with a large following and significant influence on your business or industry.
Use promoted tweets and Twitter cards as inexpensive ways to advertise your products in Twitter.
Get more visibility by tweeting pictures and videos related to you or your business to your followers.

YouTube

Create a YouTube channel for your online business, regularly add fun and useful videos, and then encourage customers to view and share your videos with others.
Launch a video contest: Ask customers to create short videos of how they use your product or service and post them to YouTube, and then let other customers vote on their favorites.
Every week, post a short (two minutes or less) video of yourself offering tips for your customers, such as demonstrating how to use a product that you sell.
Ask customers to submit video testimonials and post them on your YouTube channel.

LinkedIn

Create a LinkedIn profile and add links to your website: Update your profile with new links, product reviews, books or articles that you are reading, or other information so that this information appears to all the people in your network.
Join LinkedIn groups that may be popular with many of your customers, and frequently post questions or comments related to the products or services you offer.
Ask your customers as well as vendors and other business associates in your network to provide a recommendation for you or your business in LinkedIn.
Add brochures, PDFs, SlideShare and PowerPoint presentations, and videos to your profile under the Summary section to provide interesting content that anyone viewing your profile can download or share.

Pinterest

Set up a Pinterest profile for your business, creating one or more Pinterest boards with themes or product interests related to your business.
Add Shop the Look Pins to your posts on Pinterest that link back to your website so that it's easy to buy each product showcased.
When pinning an image to a board in Pinterest, add a short text description to provide additional information and interest.
Pin videos to your boards. This underused Pinterest opportunity can generate lots of views and shared pins.
Hold a pinning contest on your website by encouraging customers to pin an image of one of your products to their Pinterest boards. Offer a small prize to either a random pinner, or the pin that has the most re-pins.
About This Article
This article is from the book:
This article can be found in the category: