Slow Cookers
Set-it-and-forget-it dinners and desserts that will wow. We've got the recipes.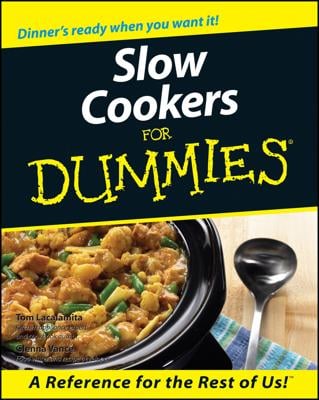 Slow Cookers
Slow Cookers For Dummies
The secret is out: That slow cooker that's been collecting dust in your kitchen cabinet is a wonderful and easy tool for making delicious entrees at the touch of a button. With new U.S. sales estimated at 6 million a year, more people are finding slow cookers indispensable in getting a home-cooked meal on the table. Besides tasting good, slow cooked meals are convenient and nutritious because you use fresh, wholesome ingredients. Slow Cookers For Dummies is for working families, couples, single people, students, and anyone who is tired of takeout. Perhaps you love cooking but have little time to do it or want to decrease your reliance on prepared mixes or boxed convenience foods. Slow cooking may be right for you if you want to Save money on food and utility bills Control your sodium and fat intake Free up your oven and cooktop for more holiday cooking Take a hot dish to a potluck supper If you already know how to use a slow cooker, the delicious recipes in this book can help you expand your repertoire beyond soups and stews. If you're thinking of getting a slow cooker, Slow Cookers For Dummies takes you from the basics of how these cookers work to preparing special occasion meals, to troubleshooting slow cooker problems. Here's a closer look at what Slow Cookers For Dummies includes: Guidelines on how to choose the right slow cooker for you Techniques to help you slow-cook the right way Easy recipes for snacks, beverages, chili, stews, and casseroles Scrumptious recipes for roasting beef, pork, lamb, and poultry How-to's on cooking and freezing in batches Ways to adapt favorite traditionally cooked dishes for the slow cooker In Slow Cookers for Dummies, food and appliance cooking experts Tom Lacalamita and Glenna Vance show that this classic cooking appliance is really a wonderful tool for making creative, delicious meals. With 75 recipes for making the most out of your slow cooker, you'll never put that slow cooker in your cabinet again.
Explore Book
Buy On Amazon