Chinese Recipes
Stir-fry, steam, and sautee your way to authentic Chinese dishes that will give the restaurants a run for their money.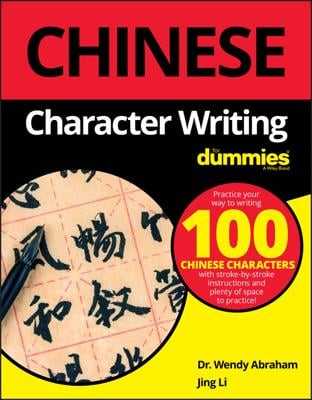 Chinese Recipes
Chinese Character Writing For Dummies
Learn to write 100 characters in Chinese Billions of people worldwide speak Chinese—and now you can learn to write 100 characters in the world's most-spoken language! Whether you're taking a course, looking to get ahead at work, or just want to up the ante when you're communicating with Chinese-speaking family and friends, Chinese Character Writing For Dummies gets you up to speed fast. This workbook will guide your first steps in learning Chinese characters. It contains 100 basic characters, including 44 simple characters (pictograms and symbols) and 56 composite characters (ideograms and ideo-phonograms). It helps you little by little to familiarize yourself with the pieces of the puzzle most frequently used, as well as some basic Chinese writing rules. Offers online bonus content that includes instructional videos, downloadable flashcards, and printable writing pages Shows you how to write 100 Chinese characters Provides instruction for beginners, students, and lifelong learners Gives you helpful tips on how to memorize characters Speaking Chinese will take you far—and learning to write some of the most common characters will only take you farther! Find out how Chinese Character Writing For Dummies can help you today!
Explore Book
Buy On Amazon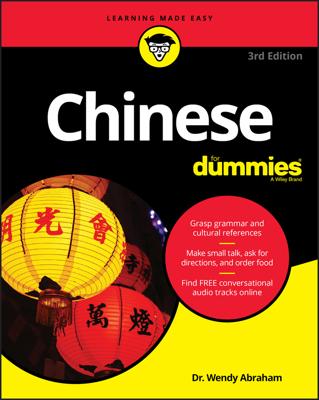 Chinese Recipes
Chinese For Dummies
The fun way to learn to speak Chinese With more than 1.2 billion speakers across the globe — and with nearly 3 million in the U.S. alone — Mandarin Chinese claims the top spot as the world's most common language. If you want to learn this language to get ahead at school or work, or to make your travel to China easier, this is the handy reference you'll want by your side. Chinese For Dummies teaches basic grammar, as well as the necessary vocabulary to make introductions and greetings, use proper etiquette, make small talk, make transportation arrangements, order food and beverages, ask directions, deal with money, shop, access recreation, and handle an emergency. Concentrates on Mandarin Chinese and features new and revised content Includes major updates to all the necessary foundational information needed to speak Chinese Covers grammar, verb conjugations, and pronunciations Offers a refreshed mini-dictionary complete with even more vocabulary Find free conversational audio tracks online As the Chinese economy continues to grow, the importance of Chinese as a trade language will also increase. If you're a student or business professional who has a basic understanding of the language, you'll be poised to surpass your peers when it comes to dealing with international markets. So get started today!
Explore Book
Buy On Amazon
Chinese Recipes
Chinese Cooking For Dummies
Forget about takeout!Have you ever had a craving for fried dumplings or hot and sour soup at midnight? Ever wonder how your local Chinese takeout makes their food taste so good—and look so easy to make? Still don't know the difference between Sichuan, Cantonese, and Mandarin cooking? Discovering how to cook the Chinese way will leave you steaming, stir-frying, and food-styling like crazy! The indescribably delicious cuisine of a fascinating country can finally be yours. And in Chinese Cooking For Dummies, your guide to the wonders and magic of the Chinese kitchen is none other than Martin Yan, host of the award-winning TV show Yan Can Cook. In no time at all, you'll be up to speed on what cooking tools to use, how to stock your pantry and fridge, and the methods, centuries old, that have made dim sum, Egg Fu Young, Kung Pao Chicken, and fried rice universal favorites. You'll also be able to: Think like a Chinese chef—usin g the Three Tenets of Chinese Cooking Choose and season a wok, select a chef's knife, plus other basic tools of the trade Find the essential ingredients—and ask for them in Chinese with a Chinese language (phonetic) version of black bean sauce, hoisin sauce, plum sauce, bamboo shoots, and more Cook using a variety of methods—including stir frying, steaming, blanching, braising, and deep frying And with over 100 recipes, arranged conveniently like a Chinese menu, Chinese Cooking For Dummies lets you select from any column in the comfort of your own kitchen...which is when the fun really begins. Imagine putting together your ideal meal from the book's rich offering of recipes: Delectable morsels—including Baked Pork Buns, Spring Rolls, Potstickers, Steamed Dumplings, and Shrimp Toast Seafood dishes—including Sweet and Sour Shrimp, and Oysters in Black Bean Sauce Poultry dishes—including Moo Goo Gai Pan, Kung Pao Chicken, and Honey Garlic Chicken Pork, beef, and lamb dishes—including Sichuan Spareribs, Tangerine Beef, and Mongolian Lamb Chinese Cooking For Dummies gives you all of the basics you'll need, letting you experience the rich culinary landscape of China, one delicious dish at a time—and all, without leaving a tip!
Explore Book
Buy On Amazon