Appetizers
Start things off on the right note with these inviting appetizer recipes.
Appetizers
Charcuterie For Dummies
The world of charcuterie is at your fingertips Even if you've never cooked a slab of bacon in your life, you can prepare sausage and cured meats at home! In Charcuterie for Dummies, you'll learn everything you could possibly need to get started, from choosing the right gear and finding quality raw ingredients, all the way through taking your parties to the next level with epic charcuterie boards. Salami, bacon, prosciutto, and good-old-fashioned sausage are all on the menu with Charcuterie for Dummies. Author and meat master Mark LaFay will help you keep things safe and sanitary, equip you with some seriously awesome recipes, and teach you a thing or two about which beers and wines to serve up with your meat. Choose a chapter and get started! Get started curing meats at home with the highest quality raw ingredients, equipment, and recipes Make everything from sausage and bacon to prosciutto, salami, and more Learn how to pair your homemade meats with jams, nuts, cheeses, and pickles for epic charcuterie boards Take your new hobby to the next level with more advanced recipes and beverage pairings Whether you're a total beginner or coming in with some previous knowledge, Charcuterie for Dummies will unleash your culinary creativity!
Explore Book
Buy On Amazon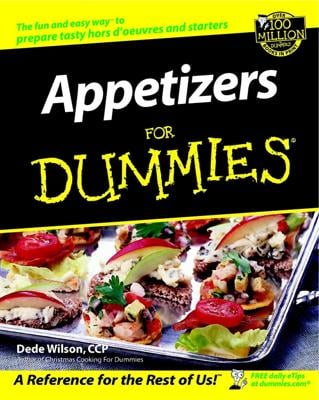 Appetizers
Appetizers For Dummies
First impressions count, and nothing makes a better first impression on dinner guests than those delectable little nibbles that you set out before the main course. And you don't have to limit yourself to serving appetizers at the beginning of a meal. Appetizers are first and foremost about entertaining. They set the tone and the mood of an occasion, whether it's a formal dinner, an intimate get-together, or a big birthday bash. And, best of all, the cooking times are short, the ingredients are simple to find (mostly), and it's easy to make a few different recipes at the same time so you can impress your guests with a festive assortment. In Appetizers For Dummies, celebrity chef, Dede Wilson shows you how to make foolproof recipes for 75 mouthwatering, bite-sized wonders—ranging from an Italian-inspired antipasto to a classic shrimp cocktail. Step-by-step, she fills you in on everything you need to know to: Impress your guests with delicious finger food and first courses Whip up everything from the classics to original, exotic, and offbeat appetizers Plan parties with theme menus that will get rave reviews from your guests Experiment with flavors and international cuisines Whether you're looking for general ideas about designing appetizer menus or helpful lists of conventional ingredients, it's all here. Among other things, you'll discover: Helpful lists of pantry ingredients and how to use them to make appetizers almost instantly Ready-to-go menus for all occasions Recipes for munchies that can be eaten by the handful, as well as recipes for traditional favorites like deviled eggs and crab cakes How to expand your culinary horizons with tea sandwiches, quesadillas, puff pastries, tartlets, muffins, biscuits, and dozens of ethnic recipes Plated recipes for formal occasions, including artichokes with vinaigrette, smoked salmon, caviar, foie gras, and more Whether you're new to the world of appetizers or you've been delighting guests with your famous finger foods and hors d'oeuvres for years, Appetizers For Dummies is the ultimate guide to spicing up any gathering with delicious mini culinary creations.
Explore Book
Buy On Amazon