This list of meats includes ten that are really good and should be tried at some point either on their own or as part of a charcuterie board presentation. Everything in this list is delicious, and if you are able to, you should track some of them down to try for yourself. Keep in mind that this list is in no particular order.
La Quercia Acorn Edition Prosciutto
Iowa has a meat-producing gem that may sneak under the radar for many people. The company is called La Quercia. The word itself is Italian for "The Oak," and the inspiration for the name came from the time that founders Herb and Kathy Eckhouse spent living in Italy. During their time abroad, they got to see the love and care that went into the production of Prosciutto di Parma, and how that attention to detail could produce something as delicious and sublime as that famed Italian ham. When they came back to the U.S., they wanted to start La Quercia to focus on making American hams in the tradition of Parma.

La Quercia is a cool company for a few reasons: They've spent a lot of time focusing on environmental sustainability. They also work with farmers in Iowa that raise their pigs to a very particular specification. This is to ensure that the ingredients they use to make their award-winning hams are of the utmost quality. It is also to ensure that they are supporting farmers that incorporate sustainability into their practices!

Eating the Acorn Edition Prosciutto (shown in the following figure) is a mind-boggling experience. These hams come from a Tamworth pig, which is a heritage breed pig. These pigs are pasture-raised on a farm. What makes them truly special is that they spend time foraging an Ozark Mountain hillside, where acorns and hickory nuts make up an estimated 65 to 70 percent of their diet. This nutty diet imparts a very nutty characteristic into the flavor of these hams. Once they are dispatched, the hams are salted and slowly dried over 30 to 36 months. The long drying time allows for some very complex and delicious flavors to develop in the flesh of this legendary ham. If you can find some, try it!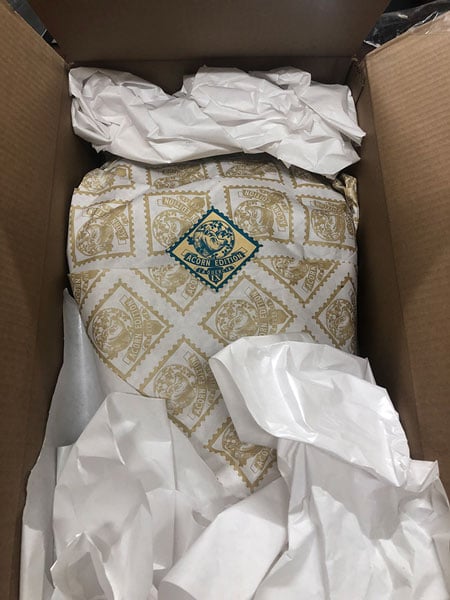 La Quercia acorn-fed prosciutto
Photo courtesy of Mark LaFay
Smoking Goose Delaware Fireball
Over ten years ago, Chris Eley and his wife, Mollie, opened up a craft butcher shop in Indianapolis, Indiana. They provided pasture-raised proteins, epic sandwiches, miscellaneous gourmet ingredients and products, and a carefully curated selection of beers and wines. From this space, Chris started producing several types of dry-cured, whole-muscle meats as well as dry-cured, fermented sausages. The success of their products grew to the point where they launched a USDA-inspected, wholesale charcuterie company called Smoking Goose.

In those early days, many of the products made at Goose the Market were only available on a limited basis because of the space they needed to keep up with growing demand. That meant that if you found something you loved, you needed to buy it on release. That, for me, was the Delaware Fireball. The Delaware Fireball is a pork salami formed in the shape of a ball and wrapped in caul fat. Essentially, it is a "crepinette" of salami. The salami is seasoned with chilis and hot pepper powders, cold smoked, and then fermented and dried. The Delaware Fireball is a delightful salami with enough spice to warm you up but not blow you out.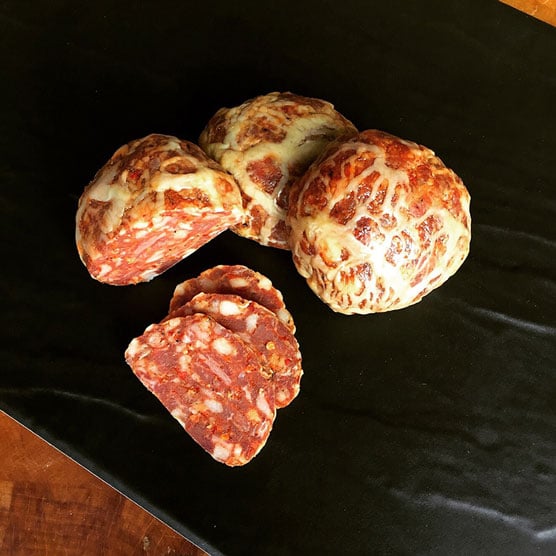 Smoking Goose Delaware Fireball
Photo courtesy of Corrie E. Cook for Goose the Market and Smoking Goose
Mousse de Foie Gras de Canard
Years ago, my wife and I made a quick weekend getaway to Montreal. It was sort of a whirlwind trip because we got stranded in Chicago overnight due to a flight cancellation. When we got to Montreal, we proceeded to cover as much ground as possible. I've always enjoyed visiting the central markets located in many of Canada's large cities. We stopped by the Atwater Market, which is located down by the river and near the old town of Montreal. In the upstairs, there is a small shop that specializes in terrines and pâtés. The shop was something to see, and I wish I had taken more photos when we were there (The following figure gives you a general idea of their variety of products.)

I'm a big fan of foie gras. It's a somewhat controversial product because of how it is produced. If you are unfamiliar, here's the gist: Foie gras is the liver of a goose or duck that is extremely fatty. The liver gets this way by over-feeding the birds. When the birds are dispatched, the liver is saved and there you have it: foie gras. The flavor is out of control: rich, fatty, savory, and velvety. The liver flavor is very, very mild.

This shop makes a mousse de foie gras de canard. A mousse is a pâté that is finely puréed and strained so that the texture is extremely smooth and creamy. This particular mousse is made with duck foie gras. The resulting pâté is subtle, rich, and out-of-control good. It goes great on crackers or toast. You can also top it with a savory flavor like cornichon or mustard, or you could go sweet and top it with fig jam. If you are ever in the area, this is worth a visit and a taste. However, you'll have to do a little searching for it.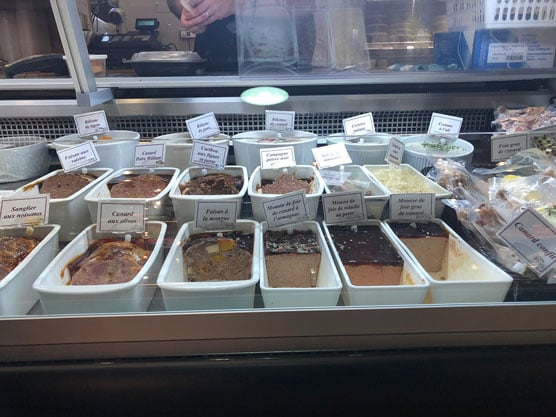 Terrine and Pâtés shop in Montreal
Photo courtesy of Mark LaFay
Grammy Mae's Summer Sausage
When I was 14 years old, my father took me grouse hunting in Canada. We stayed at a little place called the Normandy Lodge just north of Wawa, Ontario. Take a look on the map; it is a pretty isolated area! On the way up, we stopped at a place in Wawa called Young's General Store. This store is probably what you are imagining it would be: a grocery, hardware store, knick-knack shop, and bait shop, offering something to anyone in the area or who is passing through. Young's was built in 1971 and has been a staple of the area ever since.

When we popped into the shop for some supplies before finishing our journey north, my father noticed that they had a pile of hard summer sausages in canvas bags. This pile was strategically placed in the middle of the store, and I'm pretty sure it was the sole source of the smoke fragrance that filled the shop. These were fermented summer sausages that had been dried hard and smoked aggressively. Handling these canvas-wrapped meat treats would make your hands smell of smoked meat for what seemed like days.

I wasn't a big salami fan as a kid, but holy cow, these were amazing, utterly amazing. They were tangy, salty, and smoky, and I've thought about them ever since. My father has been back a couple of times, but Grammy Mae's sausage has never made the journey home to me; it has always been eaten en route. However, my good friend Tim Funston, upon my direction, paid a visit to the shop and loaded up. He's now a believer. If you are ever in Canada and you can get your hands on a hank or two of Grammy Mae's summer sausage, get two.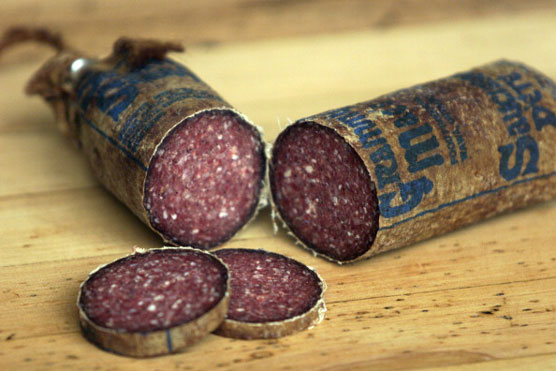 Grammy Mae's summer sausage
© Steve Russell / Getty Images / Toronto Star
Figatelli from Les Cochons Tout Ronds
On a trip to Montreal, my wife and I did some serious food tourism over a 48-hour period. We managed to eat our way through several restaurants, coffee shops, the legendary bagel bakery, and two of the general markets. While we were at the Marché Jean-Talon, we paid a visit to Les Cochons tout ronds, the creative outlet of chef Patrick Mathey. As you can see in the following figure, they had an incredible selection of all sorts of sausages, both fresh and dry-cured, and whole-muscle charcuterie. It was piled high in the cases, and even though our knowledge of the French language was minimal, they were very willing to allow us to sample several different products — and they were all great.

We ended up purchasing numerous items to take back to our flat to munch on throughout the duration of our trip. One item, however, that blew me away was the figatelli. If you Google this sausage, you will find two different spellings and some slight variations, depending on the region where it is made, but at its roots, this is a Corsican sausage made with liver, pork, garlic, and spices. It can be made as a fresh sausage or a dry-cured sausage. What we got from Les Cochons tout ronds was the dry-cured version, and it was made from pork meat, liver, and heart. I don't believe they used pork blood, but I could have missed something in the translation at the time.

The salami is dark in color, and when you slice it open, you get a beautiful cross-section of the various bits and pieces that make the salami what it is. The flavor is rich, earthy, and herbaceous. We took home about 4 or 5 different salamis, but this one I couldn't stop eating. I don't know what it was, but after the flavor dissipated in my mouth, I was craving another bite. Patrick Mathey has a gift waiting for you in Montreal!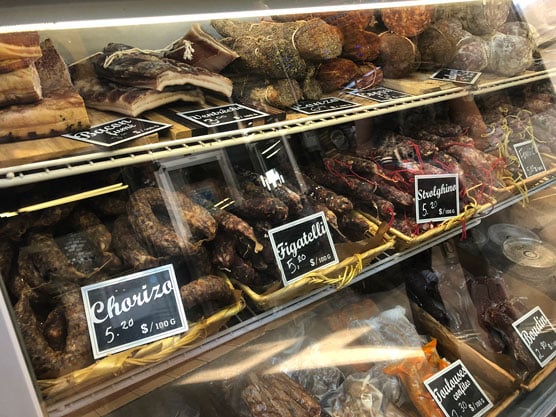 Les Cochons tout ronds, at the Marché Jean-Talon
Photo courtesy of Mark LaFay
18-Month Prosciutto di Parma with Black Truffles
Italy is a magical place, especially if you are in search of incredible meats both fresh and dried. A few years back, my wife and I met up with some friends who were over in Italy for two months on a sabbatical. We managed to tag along for a week when they were staying in the former summer estate of the Medici family. This palatial estate had been split up into multiple units and housed a small culinary school for travellers who wanted to learn authentic methods and techniques. We used this place as a jumping-off point for our explorations throughout Tuscany.

In the middle of Florence near the Duomo is the central market. Inside the market are several different vendors. You can find olives, oils, wines, cutlery, fresh and cured meats, fresh produce, fish, bread, and so on. It almost feels like you've stepped back in time when you set foot inside. In the southeast corner of the market, there is a stall that specializes in cured hams — all sorts of cured hams, every Italian ham you could imagine. It's hard to explain how vast the selection is, but they have several different regional hams, and plenty of Parma ham aged for 18, 20, 24, 30 months, you name it!

What caught my eye was the 18-month ham with truffles. There are few things in life where I lack total self-control; one of those things is truffles. If you've never had truffles, I won't try to explain them to you. A truffle is a fungus that grows underground, often on the roots of different types of hardwoods trees. In Italy, truffles often grow on the roots of oak trees, and they have to be sniffed out by dogs or pigs in order to be found. They are earthy, musty, and funky, and you either love them or you hate them. I love them; oh, do I love them! This particular ham had every crack and crevice filled with minced black truffles. Each paper-thin slice wreaked of truffles and aged, salted Parma ham. If you love truffles, find this. If you aren't sure about truffles, find this. If you hate truffles, I feel bad for you.
Cinco Jotas Acorn-Fed Ibérico Ham
Italy is not the only country known for their hams. In Spain, ham is a way of life. There are numerous types of ham, and methods of production are enshrined in law. To put this in perspective, there are over 2000 producers of Serrano ham, a particular type of Spanish ham. Ibérico ham is a special type of ham that is made from the Ibérico pig. There are several tiers of quality associated with Ibérico ham that have to do with what the pigs are fed, how they are raised, and how long the hams are aged.

The top of the top, the crème de la crème, of Ibérico ham is the Ibérico de Bellota. This type of ham comes from Ibérico pigs that freely roam the oak forests along the border of Spain and Portugal, eating only acorns. The hams are then preserved and dried for at least three years before being released. The Ibérico Bellota is then further graded, based on whether or not the pigs are purebred Ibérico or if they are crossed with another breed.

Due to the USDA regulations regarding the importation of meats, Spanish ham was not easily found in the U.S. until around 2007. However, of the hams that are available, the Cinco Jotas (5Js) brand is amazing. It is found in high-end restaurants, boutique gourmet Spanish groceries, and you can direct-order it. The last time I had 5J Ibérico ham, it was going for over $145 a pound. The flavor is out-of-control good, and if you can find it, try it!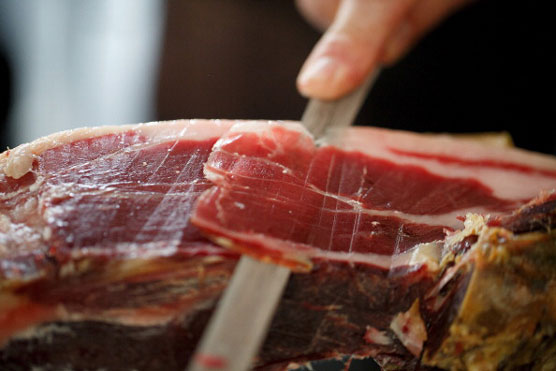 Cinco Jotas Jamon
© Pablo Blazquez Dominguez / Getty Images
Benton's Hickory Smoked Bacon
I would imagine that if there was pork royalty in the United States, the Bentons would be part of the family. Benton's Smoky Mountain Country Hams was started in 1947 by the late Albert H. Hicks. He was a dairy farmer who got into the business of curing and selling hams. Over time, his business expanded to produce a small array of products that included his famed Hickory Smoked Country Bacon.

There are a few different ways to make bacon. If you need a refresher on this, you might want to read up on bacons. For the most part, the bacon that is widely available in the U.S. is cured and hot smoked. It is sold as potentially hazardous food that needs to be refrigerated until it is cooked. Benton's Hickory Smoked Country Bacon is very different. The process used to make their bacons is similar to how their country hams are made. First, they season the bellies with a blend of salt, sugar, and black pepper. The bellies are then hung in refrigeration for three weeks to dry out. After that, they are cold-smoked for two to three days with nothing but heavy hickory smoke. The bacon is then sliced, packed, and shipped.

It's a dry-cured bacon, which means that it contains much less water than traditional bacon. It is also not fully or even partially cooked during its production. The resulting product is rich in flavor, smoky, and out-of-this-world good. If you want to redefine bacon, start with Benton's. Thankfully, they ship.
Brooklyn Cured Bresaola
Brooklyn Cured is a butcher based in, you guessed it, Brooklyn, New York. They make small-batch sausages, smoked meat, and charcuterie, and they are darn good at it. Brooklyn Cured was started in 2010 by Scott Bridi, who worked in the restaurant industry in New York. One of the more notable places Scott called home for a time was the Gramercy Tavern, a renowned place known for meat craft and an epic rotating menu of delicious bites.

Brooklyn Cured makes an assortment of products that are intended to reflect the diversity of cultures found in their Brooklyn neighborhood. I first discovered Brooklyn Cured when I was catering an in-home wine dinner a few years ago. I wanted to bring in several new products, and I came across Brooklyn Cured. Until then, I hadn't found a bresaola that I could use on a charcuterie board. If you aren't familiar with bresaola, it's salted and air-dried beef, more often than not made from beef round or loin. Chapter 4 offers detailed instructions on how to make your own bresaola!

I love bresaola. It may be because I grew up on an inferior, air-dried beef product: chipped beef. Creamed chipped beef on toast was a common dinner in our home. My grandfather was in the navy in the Pacific during World War II, and I would imagine this was a common meal when he was home because it was a favorite of my dad's. But enough about chipped beef. Bresaola is not that. It's far more flavorful, and the Brooklyn Cured bresaola is a favorite of mine. It's dusted with dried porcini mushrooms, which gives it an earthiness that is righteous! If you're in Brooklyn, pick some up, or order it online!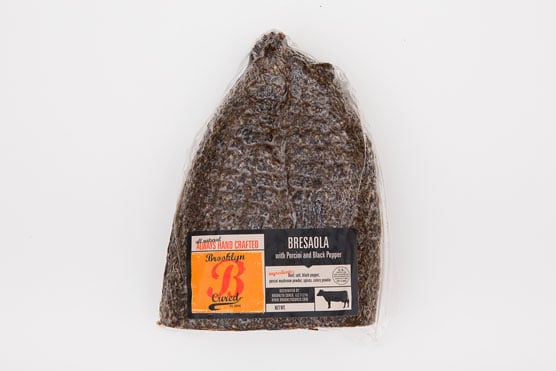 Brooklyn Cured bresaola
Photo courtesy of Brooklyn Cured
Mole Salami
If you ever make it to Seattle, you need to pay a visit to Salumi. It's a salumeria and restaurant in the Pioneer Square neighborhood of downtown Seattle. The restaurant was founded by Armandino Batali, the father of Mario Batali. Needless to say, the place is amazing, and it garnered a lot of attention very quickly because of the names behind it. It was featured on Anthony Bourdain: No Reservations and also on the Travel Channel's Adam Richman's Best Sandwich in America. I had the pleasure of visiting the deli in January of 2019. I tried several of their salamis and also took several with me.

The one salami that really rocked my world was the Mole Salami. This salami is very unique and out-of-control good. It is seasoned with cocoa, cinnamon, and chili peppers. They started by making Mole Salami in-house, but the popularity of this salami and several other cured meats attracted some outside investment to fund expansion into a production facility and the formal launch of their new brand, CORO. If you ever make it to Seattle, you need to pay a visit to the Salumi Deli and give it a try. The Mole Salami alone is worth the visit!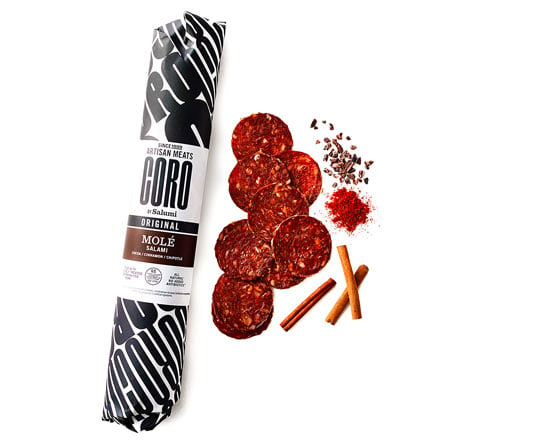 Salumi Mole Salami
Photo courtesy of Salumi
About This Article
This article is from the book:
This article can be found in the category:
This article is part of the collection(s):