Greens & Grains
Become the queen of quinoa, the king of kale, the raja of rice, the chief of chia (okay, we'll stop) with these awesome recipes.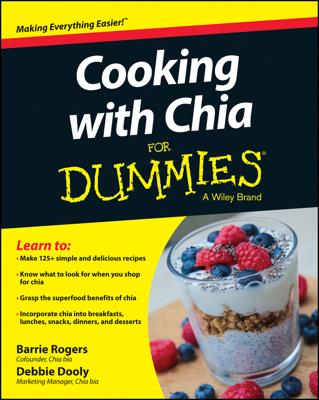 Greens & Grains
Cooking with Chia For Dummies
Power up your day with a daily dose of chia! Omega-3 fatty acids and fiber are the superstars of cardiovascular health, and chia seeds contain them both in spades. They're also great sources of iron, calcium, magnesium, and zinc, and have been linked to better cholesterol, triglycerides, and blood pressure levels. It's no wonder they've been a staple in Central American diets since the Aztecs, and are once again growing in popularity. Chia is truly a superfood, both nutritious and versatile. Both the seeds and sprouts are edible, but there's so much more to chia than that! Cooking With Chia For Dummies explores the benefits and many uses of the chia seed, and guides you through a multitude of ways to add chia to your diet. Featuring over 125 recipes, you'll learn how to choose among the different types of chia options, how to use and how to use it, and exactly how much you need to reap the health benefits. Camouflage your chia or make it the star of the dish Incorporate chia into your favorite meal Adapt the recipes to be vegan, vegetarian, or gluten-free Discover chia recipes that even kids will eat Learn why you shouldn't harvest the sprouts from your Chia pet, and where to buy high-quality seeds to eat. Chia is already fueling endurance athletes and is beloved by dietitians. You deserve to feel great, and there's no reason your taste buds should suffer for it. Chia is a delicious addition to any meal, and there's no reason for you to miss out. Cooking With Chia For Dummies is your comprehensive guide to adding chia to your diet, and your companion on the journey to ultimate health.
Explore Book
Buy On Amazon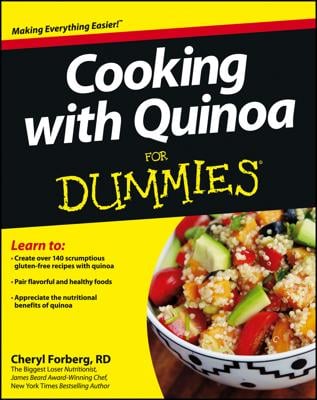 Greens & Grains
Cooking with Quinoa For Dummies
140+ gluten-free recipes for adding quinoa to every meal and snack Touted as "the gold of the Incas", quinoa (pronounced keen-wah) has many health benefits. It is high in both protein and fiber, gluten-free, and has been known to help those with cardiovascular health problems, as well as people who suffer from migraine headaches. Research also shows that the nutritional composition of quinoa is important in fighting breast cancer, especially in post-menopausal women. It is a great gluten alternative, and provides complete protein in vegetarian or vegan dishes. Not only does it have all of these phenomenal health qualities, quinoa is also delicious and extremely versatile! Quinoa can be made into a breakfast porridge, stuffed into a wrap for lunch, combined with vegetables for a hearty salad, rolled with spices and breadcrumbs to make a delicious burger, and added to an assortment of cakes and breads for an extra protein punch. Cooking with Quinoa for Dummies shows you how you can easily incorporate quinoa into each and every one of your meals and snacks. Offers over 140 gluten-free recipes for incorporating quinoa into breakfasts, lunches, snacks, dinners, and desserts Explains the health benefits and disease-fighting power of this superfood Provides the 4-1-1 on how quinoa can help you lose those unwanted pounds Includes a 16 page color insert with beautiful photos of gluten-free quinoa-packed meals Cooking with Quinoa For Dummies shows you how to use this hot new superfood in all your favourite dishes!
Explore Book
Buy On Amazon