Pancakes and waffles are always such a treat and a lovely weekend breakfast to enjoy with the whole family. Kids love them, and adding the extra toppings and experimenting with what goes well with which ingredients is all part of the fun of lazy mornings where family time is precious. Chia can play a part in these not-so-healthy recipes by adding to the nutrient value of your treats.

So, if you're going to splurge and make pancakes with whole milk and add all the guilt-laden extras like syrup and chocolate, go ahead and add some chia seeds and lessen the guilt.
Pancakes with Chia Seeds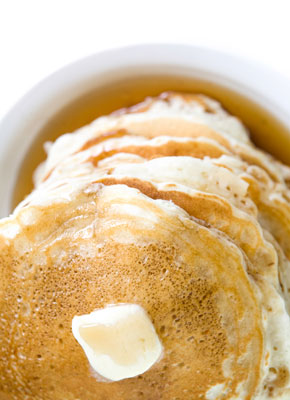 Credit: ©iStockphoto.com/RyanJLane

Preparation time: 10 minutes

Cook time: 20 minutes

Yield: 4 servings

1 cup flour

1 tablespoon baking powder

1 tablespoon sugar

Pinch of salt

4 tablespoons whole chia seeds

2 eggs, beaten

2 tablespoons butter, melted and cooled, plus extra for frying

1 cup milk
Preheat the oven to 200 degrees F.

In a large bowl, combine the flour, baking powder, sugar, salt, and chia, and mix well.

Make a well in the center of the dry ingredients, and beat in the eggs, butter, and milk. If you have a pouring jug, transfer the mixture to the jug for easier pouring.

In a large frying pan over medium heat, heat some butter.

Pour the batter onto the hot frying pan to make your pancakes. You should be able to fit 2 or 3 pancakes on a large frying pan.

Cook until the surface of the pancakes has some bubbles and a few have burst, around 1 to 2 minutes.

Flip the pancakes carefully with a spatula and cook the other side, another 1 to 2 minutes.

Transfer the pancakes to a baking sheet and keep them warm in the oven.

Continue cooking your pancakes with more butter and the remaining batter. You should be able to make 8 to 10 pancakes from this amount of batter.
Per serving:
Calories 301 (From Fat 122); Fat 14g (Saturated 6g); Cholesterol 114mg; Sodium 400mg; Carbohydrate 35g (Dietary Fiber 5g); Protein 10g.
Add your favorite toppings — such as pure maple syrup, confectioner's sugar, jam, honey, chocolate syrup, whipped cream, or whatever else you like. You can also try adding healthier toppings such as chopped fruits, nut butters, and natural sugar alternatives (like stevia), with lemon or lime juice. Adding extra chia seeds as a topping will increase the nutrient value further, so go ahead and use more chia!
Chia Seed Waffles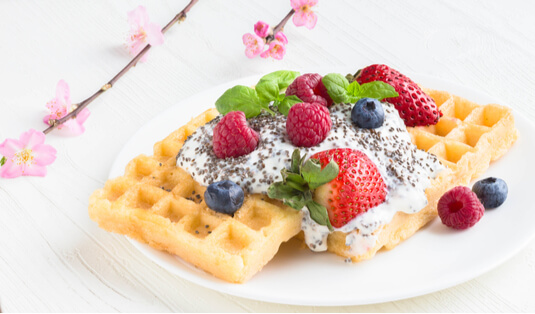 © Shutterstock/Jarvna
Preparation time: 10 minutes
Cook time: 20 minutes
Yield: 6 servings
6 eggs
1/3 cup melted butter
1 cup milk
1 teaspoon vanilla extract
1/3 cup sugar
2 cups flour
1/2 teaspoon salt
1 tablespoon baking powder
4 tablespoons whole chia seeds
12 tablespoons pure maple syrup
2 tablespoons confectioner's sugar
1 cup strawberries
6 tablespoons sweetened whipped cream
2 tablespoons whole chia seeds, for garnish
Preheat a waffle iron to high heat.

In a large bowl, beat together the eggs, butter, milk, and vanilla.

In a separate medium bowl, mix together the sugar, flour, salt, baking powder, and chia.

Add the dry ingredients to the wet and mix thoroughly using a wire whisk.

Transfer the batter to a pouring jug, if you have one, and pour the batter onto the waffle iron. This recipe makes around 6 large waffles, depending on the size of your waffle iron.

Close the lid of the waffle iron and wait around 4 minutes or until the indicator shows that the waffles are ready.

Place a waffle on each of 6 serving plates.

Drizzle each plate with maple syrup and sprinkle the confectioner's sugar evenly among the servings.

Divide the strawberries evenly among the plates.

Add a tablespoon of sweetened whipped cream to each serving.

Garnish with chia.
Per serving:
Calories 578 (From Fat 198); Fat 22g (Saturated 11g); Cholesterol 225mg; Sodium 493mg; Carbohydrate 82g (Dietary Fiber 5g); Protein 14g.
To make this dish a little healthier, swap the toppings for a mixture of fresh fruits and yogurt.
About This Article
This article is from the book:
This article can be found in the category: