Cobb salads are decorative in design, so they're as colorful and beautiful as they are delicious. Place the toppings in lines or around the edges, or toss it all together if you prefer!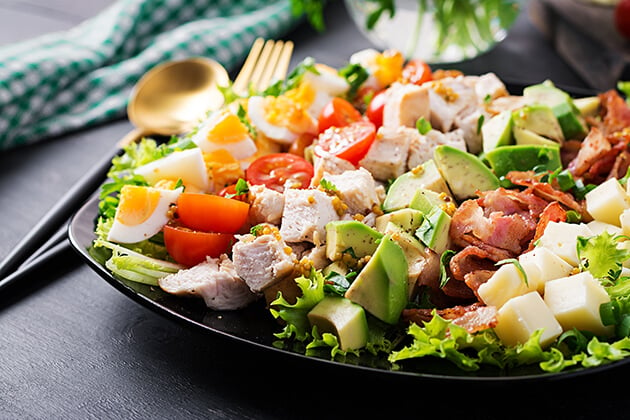 ©Timolina / Adobe Stock
You can vary the Cobb salad by adding sliced cucumbers, chopped bell pepper, grated carrot, or croutons, too. For this recipe, the chicken breast can be marinated up to eight hours. If you prefer grilled chicken, grill for 8 to 10 minutes on each side over medium-high heat until cooked to an internal temperature of 165 degrees.
Preparation time: About 30 minutes
Cooking time: 35 minutes
Yield: Eight servings
Ingredients:
1/2 cup red wine vinegar
2 tablespoons Dijon mustard
2 teaspoons honey
2 garlic cloves, minced
1 teaspoon sea salt
1 teaspoon cracked pepper
1 cup extra-virgin olive oil
2 skinless, boneless chicken breasts
8 slices bacon, crumbled or chopped
6 cups romaine lettuce, chopped
3 hard-boiled eggs, chopped
1 ripe avocado, cubed
2 Roma tomatoes, seeded and diced
1/2 cup crumbled blue cheese or grated cheddar cheese
2 green onions, thinly sliced
Directions
Preheat the oven to 400 degrees. Line a baking sheet with parchment paper.
In a medium bowl, whisk together the vinegar, mustard, honey, garlic, salt, pepper, and olive oil. Transfer 1 cup of this salad dressing to another bowl, and place the chicken breasts into that bowl. Allow the chicken to marinade for 30 minutes, flipping to coat both sides of the chicken.
Meanwhile, place the bacon on the parchment paper and bake until crispy, about 15 minutes. Remove the bacon from the parchment paper, and add the marinated chicken breasts. Bake until the chicken reaches an internal temperature of 165 degrees, about 20 minutes. Let the chicken rest for 5 minutes; then cube the chicken into small, bite-size pieces.
In a large bowl, toss the lettuce with the remaining dressing. Adjust the salt and pepper as needed. With tongs, remove the dressed lettuce to a serving plate. In lines, top with the eggs, avocado, tomatoes, cheese, onions, crumbled bacon, and chicken. Serve immediately.
Per serving: Calories 432 (From Fat 348); Fat 39g (Saturated 8g); Cholesterol 117mg; Sodium 644mg; Carbohydrate 6g (Dietary Fiber 2g); Protein 16g.
About This Article
This article is from the book:
This article can be found in the category: