Not another kitchen gadget, right? Overall, I am a fan of an excellent knife and solid cutting board for most salad recipes. Tools can help with storage and preparation techniques, and they can enhance your use of ingredients.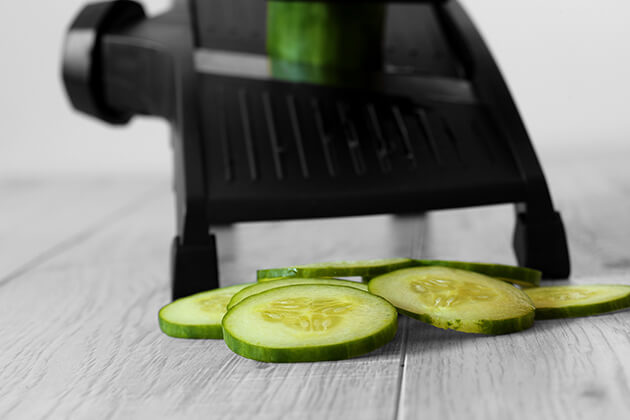 ©Christian / Adobe Stock
A mandoline tool allows you to easily slice vegetables into a uniform thickness.
When you're making a salad, you don't need much — just a good knife, a solid cutting board, and a fun way to serve your salad. Those are the basics. But if you want to create some cool cuts or create salads that have roasted or spiralized vegetables, you may want to grab some more tools.
If you love stocking up on kitchen gadgets, use this list as your excuse to cut loose! But you don't need all the fancy tools to make a successful salad.
Useful tools for great salads
You can find each of the following items (listed roughly in order from most important to least important) at Williams-Sonoma or on Amazon:
Chef's knife: A 6- or 8-inch chef's knife is ideal for many tasks when you're making salads. Top-rated knife brands include Mercer, Opinel, Victorinox, Wüsthof, and Zwilling. Keep in mind: One good knife is better than a bunch of cheap knives.
Cutting board: Many people keep a couple of different colored cutting boards on hand to identify what they use them for — for example, green for produce, red for meats, and white for breads.The advantage of plastic cutting boards is that they're usually dishwasher safe. Wood cutting boards are my favorite, though, and I oil mine with mineral oil every couple of weeks to keep the boards in top shape. IKEA has inexpensive wood cutting boards; if you keep wood cutting boards oiled, they'll hold up to heavy use. Plus, wood cutting boards break down in landfills, unlike plastic.
Paring knife: A paring knife is handy for smaller knife skills or hand peeling.
Tongs: A variety of sizes exist. In my kitchen, I keep three sets of tongs on hand for turning meats or tofu in a frying pan, grilling, and tossing salads.
Salad spinner: Salad spinners really help prolong the life of your greens. Wash them as soon as you get them and spin them dry to have lettuce ready any day of the week. OXO makes a small salad spinner that's a great starting point.
Food processor: Whether I'm whipping up a dressing or slicing vegetables, I regularly use my food processor. I've had a Cuisinart food processor for almost 30 years, and it still works well. You can find less expensive brands and more expensive brands — just consider your budget and what works best for your kitchen space.
Bread knife: A well-made serrated knife is great for slicing your favorite crusty French bread to serve with your salad.
Vegetable peeler: A multifunctional peeler can help with finite cuts, such as a julienne. The Deiss PRO Dual Julienne and Vegetable Peeler is well rated and can be found on Amazon.
Mandoline slicing tool: I have owned both a giant mandoline and a hand-held version, but I prefer a simple hand-held mandolin. The OXO Good Grips Simple Mandoline Slicer is easy to use and is dishwasher safe. Be mindful and use the guard when using a mandoline — even experienced chefs have cut the tips of fingers on a mandoline.
Spiralizer: You can make zoodles (vegetable noodles) or curly fries in an instant with a spiralizer. The Spiralizer 7-Blade Vegetable Slicer has earned top marks but is bulky and large. Look for one that fits in your kitchen and works well for your preferred vegetables. Read the reviews before making a purchase.
Blender: Blenders can be good when whipping up larger batches of dressings or blending soups. If you have a food processor, you may not need a blender.
Sheet pans: While I was living in Europe, I fell in love with cast-iron and heavy black steel pans. I like how these are versatile and can be used on the stovetop, on a grill, or in the oven. Cast iron also heats evenly. Aluminum pans are lightweight and easy to use in the oven. USA Pan Bakeware is a good brand for lightweight baking sheets and can be found on Amazon.
Digital thermometer: Many people still cut into meat to check for doneness, but I always encourage the use of a meat thermometer to check for doneness instead. A digital thermometer is inexpensive (ranging from $15 to $30) and quickly registers temperature, giving you an accurate measurement of the food's internal temperature.
Taking advantage of a multicooker
Rice, grains, and legumes — important parts of many salad recipes — can be made to perfection in a multicooker, like an Instant Pot, for example. Making grains or legumes in bulk and freezing them will help future meals come together quickly.

Multicookers are particularly useful when making bowl meals, which often have a grain, a legume, and raw and roasted vegetables with a dressing.
About This Article
This article is from the book:
This article can be found in the category: