Most dinner plans start with a protein, pair it with a starch, and then add a vegetable. Why not combine the starch and vegetable instead? This delicious and satisfying soba noodle and edamame bean salad takes the guesswork out of your side dishes and makes the side dish the star of the plate.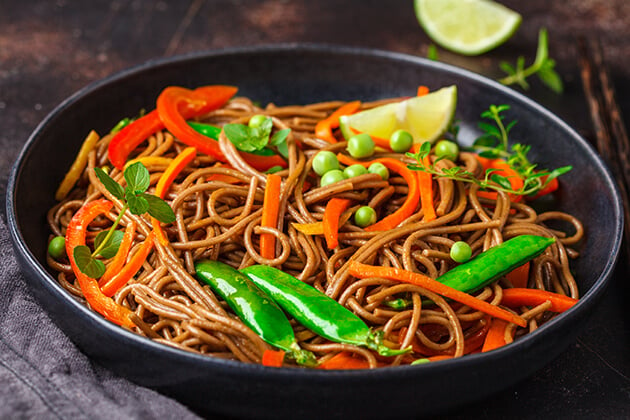 ©Vaaseenaa / Adobe Stock

You can vary this recipe in several ways; for example, by using red bell pepper and peas and peapods instead of edamame.

As you're making this salad, keep in mind that soba noodles are gluten-free because they're made from buckwheat. They must be cooled quickly or the noodles will clump together.

If you're preparing these for someone who must eat gluten-free, be sure to check the label. Sometimes food manufacturers cut costs by adding wheat to the noodles.

Preparation time: About 10 minutes

Cooking time: 4 minutes

Yield: Eight servings
Ingredients
4 ounces soba noodles

3 tablespoons apple cider vinegar

1/4 cup orange marmalade

2 tablespoons vegetable oil

1 tablespoon sesame oil

1 teaspoon grated ginger

1 teaspoon grated garlic

2 tablespoons lime juice

2 tablespoons soy sauce

2 Persian cucumbers, thinly sliced on the bias

1/2 cup grated carrots

1 cup shelled edamame

1 cup thinly sliced purple cabbage

1 cup canned-in-water mandarin oranges, drained

2 cups fried wonton noodles

1 tablespoon black sesame seeds
Directions
In a large pot, bring water to a boil. Add the soba noodles, stirring to submerge. Cook according to package instructions, about 2 to 4 minutes.
While the soba noodles are cooking, ready an ice bath. Strain the cooked soba noodles and immediately submerge them into the ice bath, stirring to quickly cool the noodles.
Next, in a serving bowl whisk together the vinegar, marmalade, vegetable oil, sesame oil, ginger, garlic, lime juice, and soy sauce. Add the cucumbers, carrots, edamame, cabbage, and mandarin oranges, stirring to combine.
Strain the cold soba noodles. Add the soba noodles to the vegetables, tossing to coat. Add the fried wonton noodles and sesame seeds, tossing to mix the salad. Serve immediately.
Serve with teriyaki chicken, ribs, or barbecue chicken.

Per serving: Calories 231 (From Fat 93); Fat 10g (Saturated 1g); Cholesterol 0mg; Sodium 404mg; Carbohydrate 32g (Dietary Fiber 3g); Protein 6g.

To vary the recipe, you can add thinly sliced red or orange bell pepper, green onion, chopped peanuts or cashews, and roasted sweet potatoes.
About This Article
This article is from the book:
This article can be found in the category: