Mediterranean Diet Recipes
Get a taste of the Mediterranean every day, and keep cancer and heart disease at bay. We explain the diet and show you how to make the switch easy.
Mediterranean Diet Recipes
Books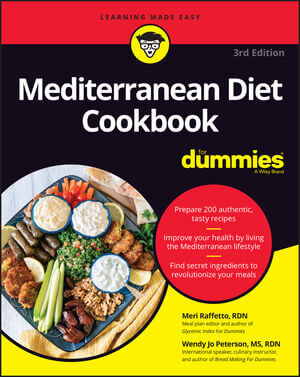 Mediterranean Diet Recipes
Mediterranean Diet Cookbook For Dummies
Discover the world's healthiest and tastiest diet Ready to transform the way you've been preparing dinner? Then it's time to dive into the Mediterranean Diet Cookbook For Dummies! You'll learn to bring home the flavors of Italy, Greece, Spain, Morocco, Lebanon, and southern France, as you discover the cuisine that's been shown to reduce the risk of heart attack, diabetes, and cognitive decline while delivering extraordinary, authentic flavors. Unlike many of the quick fix and fad diets on the market today, Mediterranean cooking styles contribute to long-term, healthy lifestyles by focusing on fruits and vegetables, legumes, whole grains, olive oils, and moderate amounts of protein and animal fats. And you'll learn how to combine and prepare these ingredients into delicious recipes, while tapping into the mindful eating habits of the Mediterranean. In this book you'll explore: Over one hundred and fifty tasty recipes you can cook for any meal of the day Brand-new updates regarding time-saving multi-cooker directions, the latest on the on-going supportive wellness research around the Mediterranean diet, and how to effectively plan and prep over a month of quick & easy Mediterranean meals Mindful eating and living approaches to savor and enjoy the foods and lifestyle of the Mediterranean Mediterranean Diet Cookbook For Dummies is the perfect hands-on guide for anyone looking for an introduction to the Mediterranean cuisine, as well as those already familiar with the diet but need some fresh recipe ideas.
Explore Book
Buy On Amazon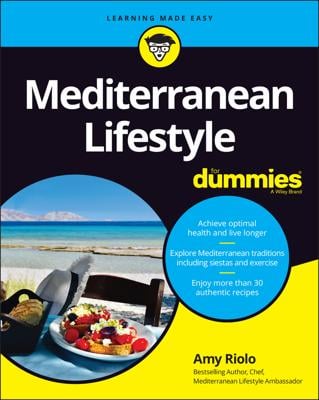 Mediterranean Diet Recipes
Mediterranean Lifestyle For Dummies
Achieve optimal health and live longer with timeless advice from Mediterranean culture The Mediterranean lifestyle offers achievable and enjoyable opportunities for a longer, healthier, and happier life. By incorporating simple and fun habits into your daily life, you can enjoy these lasting benefits. In Mediterranean Lifestyle For Dummies, best-selling author, Mediterranean lifestyle ambassador, chef, and culinary expert Amy Riolo walks you through the basic lifestyle practices that have stood the test of time and will transform the way you eat, socialize, and experience life. You'll find practical ways to enjoy increased energy, better sleep, an improved attitude, and a revitalized social life. You'll learn to make a healthy, produce-based diet the centerpiece of a new approach to living that includes engaging with nature, making mealtimes sacred, and laughing at life every day. More than 30 delicious, simple, and authentic Mediterranean recipes from various countries in the region, this book shows you how to: Benefit from ancient wisdom which has enabled people to survive and thrive well into their 90s for millennia Adopt a food-friendly approach that makes cooking for yourself, friends, and family an opportunity for fun and memorable experiences Organize your pantry and kitchen around Mediterranean principles so making simple, healthy foods becomes second nature Make time for yourself, your family, and your friends by reconnecting with the outdoors, siestas, and communal meals The transformational opportunity found in this lifestyle guide is about more than improving your diet and losing a few pounds. It's about showing you how to find a happier and healthier you without resorting to fads, tricks, shortcuts, or diets that only last a few days. By revealing the often-overlooked cultural traditions and lifestyle components that have earned the Mediterranean Diet top ranking among the world's diets, this book will help you to achieve lasting and meaningful results, anytime and anywhere. Mediterranean Lifestyle For Dummies is for anyone who wants more flavor in their food, more wine in their glass, more friends at their table, and more life in their life.
Explore Book
Buy On Amazon
Mediterranean Diet Recipes
Mediterranean Diet For Dummies
Expert advice on transitioning to this healthy lifestyle The Mediterranean diet is a widely respected and highly acclaimed diet based on the food and lifestyles common to the people of Greece, Cyprus, Southern France, Spain, and coastal Italy. In addition to being a healthy, extremely effective way of losing weight, the Mediterranean diet is considered an effective means of avoiding or reversing many health problems, such as cardiovascular issues, pre-Diabetes, and obesity. This hands-on, friendly guide covers the numerous health benefits of the Mediterranean diet and encourages meals that consist largely of healthy foods such as whole grains, fresh fruits and vegetables, olive oil and other healthy fats, fish, and foods high in Omega-3 fat content, such as seafood, nuts, beans, and dairy products. Featuring 20 delicious and nutritious recipes and chock-full of tips from consuming the best oils to whether wine is okay with meals (it is), Mediterranean Diet For Dummies serves as the formula for maximizing success in achieving ideal weight and health. Explains how switching to a Mediterranean diet can ward off the risk of many diseases Includes 20 tasty recipes Also available: Mediterranean Diet Cookbook For Dummies If you've heard of this highly acclaimed and publicized diet, Mediterranean Diet For Dummies helps you make the switch.
Explore Book
Buy On Amazon