How to Create Your First Animation in Flash
How to Create Your First Animation in Flash
To create your first Flash animation, you first need to know how to add a symbol to the Library. In this example, you will make an oval go from Point A to Point B. It's not the coolest of animations, but it's a start.
To create this animation, create a new Flash document and follow these steps:
1

Create a Graphic symbol, using the Oval tool.

You create all your symbols on Stage.
2

Use the Selection tool to move the symbol to the desired starting point.

To move an object with the Selection tool, click and drag the object to the desired location.
3

Right-click (Windows) or Control-click (Mac) and choose Create Motion Tween from the context menu.

Flash creates 25 frames on the Timeline and positions your cursor in the 25th frame.

If you don't create a symbol as outlined in Step 1, Flash displays a dialog box telling you the object cannot be used in a motion tween animation, but Flash will convert the option if you click OK.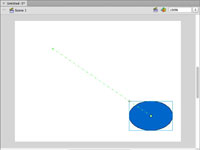 4

Move the oval to the point where you want to end the animation.

Flash creates a motion path and converts the 25th frame to a keyframe.
5

Press Ctrl+Enter (Windows) or Apple+Return (Mac).

Flash displays the animation in another window. You're probably thinking that the animation is pretty ho-hum. You're right. So kick it up a notch. After you get tired of looking at the animation, close the window.
6

Click a frame between the beginning and ending keyframes. Using the Selection tool, move the object to another position.

Flash creates another keyframe when you move the object to another position.
7

With the Selection tool, move your cursor toward the first half of the motion path.

When you see a curve appear under the arrow cursor, you can bend the motion path.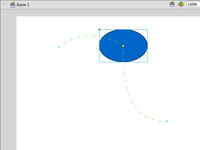 8

Click and drag the motion path to curve it and repeat for the other half of the motion path.

Your motion path should resemble the one shown.