Premiere
Before your fans can like, subscribe, and leave a comment, you've got to make a video. Get it done with Premiere and our video editing how-tos.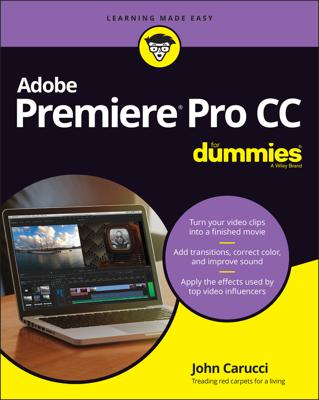 Premiere
Adobe Premiere Pro CC For Dummies
When the filming stops, the real video production work begins Ever wonder how your favorite video creators regularly put out such slick content? They're probably using Adobe Premiere Pro CC, a go-to video production app for both professional and amateur video creators. Adobe Premiere Pro CC For Dummies walks you through each step of editing and producing slick and stylish videos that stand up to what the pros post. From transferring your digital movie files from your camera or phone to your computer all the way to uploading your latest creation to YouTube or the web, this book has the info you need to bring your ideas to life. If you're new to video production, you can begin at the beginning with the handbook's user-friendly guide to the basics of setting clips on the timeline and making them flow seamlessly. Or, if you've already got a few videos under your belt, you can skip right to the more advanced material, like special effects and handy tricks of the trade. You'll also find: Instruction on joining video clips into a continuous final product, complete with transitions, special effects, and more Advice on improving sound, getting rid of color errors, and customizing the look of your videos with filters and aftereffects Straightforward guides to adding voiceovers and soundtracks to your videos So, if you're new to Adobe Premiere Pro CC—or digital video editing in general—Adobe Premiere Pro CC For Dummies is the first and last resource you'll need to start editing like a pro.
Explore Book
Buy On Amazon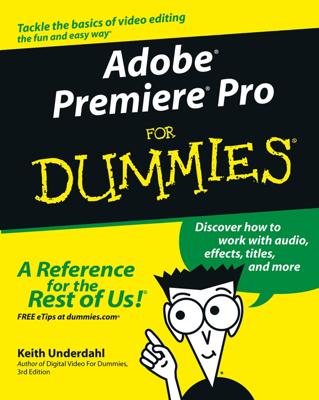 Premiere
Adobe Premiere Pro For Dummies
Quiet on set! Time to start your moviemaking adventure -- here's what you need to know about capturing, editing, and publishing your videos If you're an amateur filmmaker shooting documentaries or a hobbyist putting together a family video, Adobe Premiere Pro For Dummies is the book for you. From setting up a production studio and shooting good footage, to editing clips, adding effects, and working with audio, this user-friendly and comprehensive guide written in plain English can help you create your next video masterpiece and share the finished product. This handy guide starts with the basics, getting you familiar with the Adobe Premiere Pro software and its interface and helping you set up your dream studio. From there, you'll dive into capturing footage for your videos, learn how to manage multiple movie projects, and edit movies to your liking. You'll learn to: Capture audio and video from your camcorder or video deck (if your computer has the right hardware) Pick and choose scenes to include in a movie, moving frame by frame through video to precisely place edits Add and edit (up to 99) audio soundtracks to your program Create titles and add still graphics to your movie projects Animate titles and graphics Apply one of 73 different transitions to video Modify your movie with 94 video and 22 audio effects Improve and adjust color using an advanced Color Corrector, new to this version of the software Use powerful new audio tools to mix audio, whether it's mono, stereo, or 5.1 channel surround Work with multiple, nestable timelines Preview edits immediately in real time Once you're finalized your movie project, you can export it, save it to DVD, or publish it online. But that's not all! With this helpful guide, you'll learn pro movie-making tips, third-party software add-ons, and additional tools for your production studio. Pick up your copy and start shooting your film today.
Explore Book
Buy On Amazon