InDesign
InDesign is a full-featured publishing app you can use to create magazines, brochures, flyers, and more. Need a hand? We've got tips and tricks to make your life easier.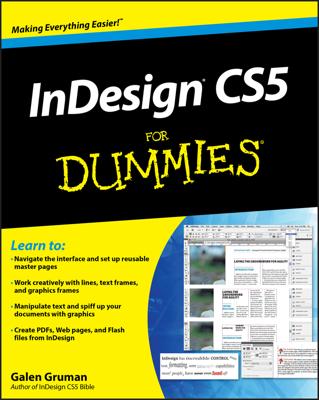 InDesign
InDesign CS5 For Dummies
Get up to speed on the latest features and enhancements to InDesign CS5 As the industry standard in professional layout and design, InDesign delivers powerful publishing solutions for magazine, newspaper, and other publishing fields. This introductory book is an easy-to-understand reference for anyone migrating from another software application or those with little-to-no desktop publishing experience. You'll explore InDesign basics and examine the enhancements to InDesign CS5, while you also discover how pages work, build templates, create frames and shapes, manage styles, and much more. InDesign is proving to be an increasingly popular layout and design application; InDesign CS5 includes new functionality and enhanced tools Teaches all the basics for first-time users, including how to open and save your work, arrange objects, work with color, edit text, manage styles, finesse character details, add special type, import and size graphics, set paths, work with tabs, create indices, and more Demonstrates how to calibrate colors, export PDF files, fine-tune paragraph details, create frames and shapes, manipulate objects, and work with automated text InDesign CS5 For Dummies offers a straightforward but fun approach to discovering how to get the most from your desktop publishing experience when using InDesign.
Explore Book
Buy On Amazon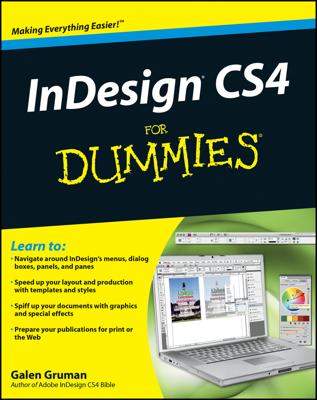 InDesign
InDesign CS4 For Dummies
InDesign is the preferred graphic design software, and InDesign CS4 is loaded with cool new desktop publishing features. InDesign CS4 For Dummies shows you how to use every one! Whether you're an experienced designer or just want to create a cool newsletter for the school soccer team, you'll benefit from Galen Gruman's guidance. This desktop publishing expert shows you how to navigate InDesign menus, dialog boxes, panels, and panes; streamline your work with templates; prepare your creations for printing or online publication, and more. Explore the new tools, work with the application frame, and set preferences for the way you work Learn to open and save documents and export content Get familiar with the Pages panel, apply Master Pages, and work with Layers Make the most of color with color libraries, multi-ink colors, spot versus process color, and gradients Create layout guidelines and use color swatches for consistency Streamline text formatting by using styles and treat text as a graphic element Design for the Web with hyperlinks, multimedia elements, and Flash files See how InDesign CS4 works seamlessly with other applications in the Adobe Creative Suite Discover why good design is part science and part art and learn to manipulate, organize, and align design objects Take advantage of tips for cropping and positioning graphics Prepare for printing or other output with enhanced preflighting tools InDesign CS4 For Dummies also offers great advice for designing pages that do their job perfectly. Start creating today!
Explore Book
Buy On Amazon
InDesign
InDesign CS2 For Dummies
Over the last few years, Adobe InDesign has made significant inroads against QuarkXPress, with adoptions by major media companies such as Meredith Corporation and Hearst Magazines; it is now the only desktop publishing program taught at many art schools Shows graphic designers how to get up to speed quickly on the latest InDesign release, make the most of program tools, create great page designs, add sparkle, and output to a variety of media The authors, both Quark experts who've converted to InDesign, offer special tips and insights to Quark users who are making (or thinking of making) the switch to InDesign
Explore Book
Buy On Amazon