Acrobat
Adobe Acrobat is the ultimate document viewer and editor. Whether you need to sign an electronic contract or just make sure that your document will look the same on your boss's computer, Acrobat is what you need.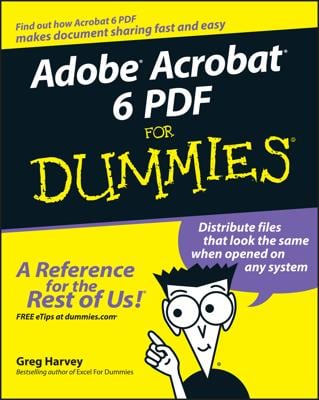 Acrobat
Adobe Acrobat 6 PDF For Dummies
Learn to use Adobe Acrobat and read, write, and manage PDF documents like a pro You can convert any document to PDF, a universal file format, preserving all the fonts, formatting, graphics, and color of the source document — regardless of the application and platform used to create it — making it super easy to share documents electronically or after printing them. If you need to convert paper documents into PDF files, save graphics as PDFs, create PDF form files (that others can use to submit data), or create and publish PDF files as ebooks, Adobe Acrobat 6 For Dummies can help — no experience with Adobe Acrobat or PDF files is required. You can publish and distribute PDF files anywhere: in print, attached to email, on corporate servers, and posted on websites. Professionals in sales, web design, marketing, and public relations alike — and anyone who needs to read, write, edit, or otherwise manipulate PDF documents — will benefit from this no-nonsense and comprehensive guide written in plain English. You'll discover how to Navigate the Acrobat user interface, including menus, toolbars, and keyboard shortcuts Access and distill PDF files Automate the distilling of PDF files Convert Microsoft Office documents Make a scanned PDF document editable and searchable Capture paper documents and Web pages Add web pages to an existing PDF document Print, annotate, edit, and securing PDF files Collect and summarize comments during PDF review Troubleshoot problems with printing PDFs Password-protect a PDF document Extract text and graphics from PDFs Catalogue and distribute PDF files Create interactive forms Build multimedia presentations — with movies and sound With your own copy of Adobe Acrobat 6 For Dummies, you can learn how to do all of that, find the best third-party Acrobat plug-ins to try, peruse helpful online resources, and more!
Explore Book
Buy On Amazon