As you edit images in Photoshop Elements, you need to know your way around the editor workspace and the tools panel — especially the selection tools.

Check out the visual reference to the photo editor and the tools panel keyboard shortcuts, as well as the table of Photoshop Elements selection tricks.

Having these references by your side will help you edit images in Elements quickly and easily.
Photoshop Elements 2024 editing workspace
Photoshop Elements offers two workspaces — the Organizer and the Photo Editor — and you can toggle between the two. The figure below shows the Photo Editor interface showing the expert editing mode with the Layers panel open.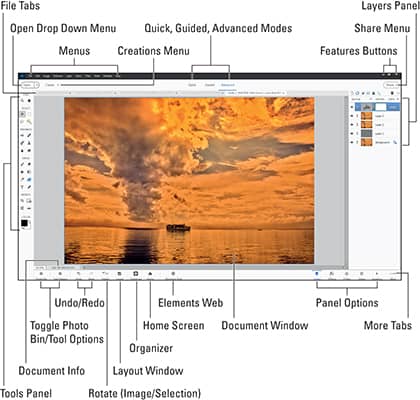 Open an image in the Photo Editor by choosing File→Open.
Get information about your image by looking at the status bar. Click the right-pointing arrow to get more details about your image.
Need to see detail in your image? Zoom in by pressing Ctrl+spacebar and clicking where you want to see the image close-up. Zoom back out by pressing Alt+spacebar and clicking.
Easily switch the display for Tool Options to Photo Bin by clicking the Photo Bin button. The Tool Options panel disappears and thumbnail images for photos opened in the Photo Editor appear in the Photo Bin.
Access panels as needed by choosing them from the Window menu or the Panel Bin.
Easily select tool options for a tool selected in the Tools panel by making choices in the Tool Options panel.
Elements 2024 keyboard shortcuts
When you select a tool and open the Tool Options bin below the image window, companion tools are displayed in the bin. Selecting a tool in the Tools panel opens the Tool Options, where you can select additional tools if you're using keyboard shortcut keys.
To cycle through tools that share a keyboard shortcut, simply press the key that corresponds to your desired tool until that tool is selected. For example, if the Elliptical Marquee was the last tool used, press M to return to the Marquee tool.
In the figure below, check out the keyboard shortcut for each tool in the Tools panel, as well as which tools share a keyboard shortcut: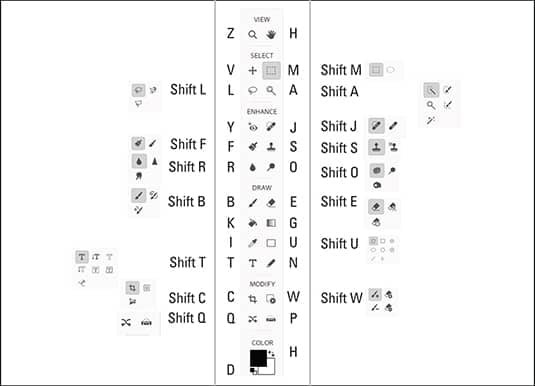 Keyboard commands for Elements 2024
If you want to pluck an element out of its environment and stick it in another in Photoshop Elements, or apply an adjustment to just a portion of your image, you need to create a selection around that element.
Finding out how to make accurate selections is one of those skills that's well worth the time you invest.
Refer below for handy keyboard shortcuts that enable you to refine a selection in Photoshop Elements.
| | | |
| --- | --- | --- |
| Keyboard Command | Windows | Mac |
| Add to selection | Shift-drag | Shift-drag |
| Deselect from selection | Alt-drag | Option-drag |
| Deselect all but intersected area | Shift+Alt-drag | Shift+Option+drag |
| Deselect | Ctrl+D | Command+D |
| Reselect last selection | Ctrl+Shift+D | Command+Shift+D |
| Select all on current layer | Ctrl+A | Command+A |
| Hide selection outline | Ctrl+H | Command+H |
| Cut selection | Ctrl+X | Command+X |
| Copy selection | Ctrl+C | Command+C |
| Paste last cut or copied image | Ctrl+V | Command+V |
| Paste into selection | Ctrl+Shift+V | Command+Shift+V |
| Adjust levels | Ctrl+L | Command+L |
| Adjust hue or saturation | Ctrl+U | Command+U |
| Adjust image size | Ctrol+Alt+I | Command+Option+I |
About This Article
This article is from the book:
This article can be found in the category: