Print Your CS5 Documents at Home
Print Your CS5 Documents at Home
When you're ready to print your Creative Suite 5 documents, you can open the Print dialog box and then specify a number of settings depending on which kind of printer you've installed. For this example, Adobe Distiller is used.
Though you can simply save a Photoshop PDF from the regular Save menu, we walk you through the steps of creating a PDF file from the Photoshop Print dialog box. Using the Print dialog box, you can take advantage of additional options that aren't available on the Save menu, such as the ability to preview printed documents, scale images, and apply color settings.
To print a file as a PDF from Photoshop CS5, follow these steps: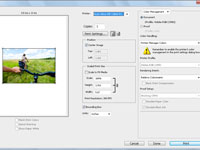 1

Choose File→Print.

The Print dialog box opens, as shown.

The Print dialog box differs, depending on which program you're using. In this dialog box, Photoshop allows you to change the scale of the image by entering a value in the Scale text box or selecting and dragging a handle on the preview image on the left side.
2

From the Printer drop-down list, choose Adobe PDF.

If you want to choose the settings for an installed printer, you can also select it here.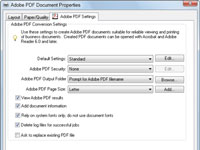 3

If necessary, scale the image to fit the paper and then click the Print Settings button.

A second Print dialog box appears, as shown.
4

Choose the quality of PDF that you want to create from the Default Settings drop-down list.

(Optional) If you want to see your PDF file right after it's created, choose View Adobe PDF Results and then click OK.

You return to the Print dialog box.
5

Click Print.

The Save PDF File As dialog box appears.
6

Enter a name for the PDF, navigate to the location where you want to save the file, and click Save.

The document is saved as a PDF file.

Because most printers have custom interfaces for defining settings, you may need to consult your printer's documentation for detailed information on using the printer's features.