LinkedIn: How to Create a Contacts Export File
LinkedIn: How to Create a Contacts Export File
There will probably come a time when you need your LinkedIn contacts to help you in other arenas if you want to be successful in your job search. First, you need to generate your exported file of contacts from LinkedIn. To do so, follow these steps:
1

On any LinkedIn page, hover your mouse over the Network link in the top navigation bar.

Choose Contacts from the menu that appears, and then click the wheel icon to load the Settings page. The Settings page will appear.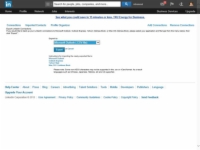 2

Click the Export LinkedIn Connections link.

You'll be taken to the Export LinkedIn Connections page. From the drop-down list provided, pick the e-mail program to which you want to export your contacts.
3

Click the Export button to generate your contacts file.

First, you are asked to enter the text of a security image into the box provided. Then, the File dialog box appears, asking whether you want to open or save the file. Click Save to save the file to your computer. Give it a custom name, if you like, but remember the filename and location because you need that information when you load this file into your e-mail program.