LinkedIn
LinkedIn: It's like Facebook, but everyone's on their best behavior and wearing a suit. Our latest articles walk you through the ins and outs of getting the most out of this social platform.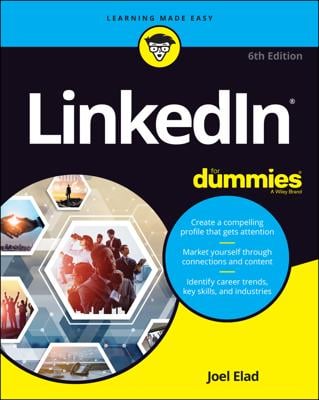 LinkedIn
LinkedIn For Dummies
Brand yourself like a pro on LinkedIn LinkedIn multiplies what you know by the power of who you know to deliver the number one social platform for business professionals and new job seekers. LinkedIn For Dummies shows LinkedIn newcomers the best ways to discover new opportunities, enhance their personal brand, network with other professionals, and give an exponential boost to their career. Consider this book a passport to help you connect more successfully with many of LinkedIn's 660+ million members in over 200 countries, as well as an expert guide to the platform's tools and features and the proven tactics that get you noticed. In this friendly, all-access introduction to the LinkedIn scene, entrepreneurship guru Joel Elad clues you in on the essentials. Get the latest insight on how to create an attractive profile that will make employers give you a second glance as well as techniques for making useful connections across the globe. In no time at all you'll also be right at home with the profile user interface and getting busy with adding content, searching for career opportunities, and, if you're looking to hire for your company, recruiting top candidates. Build your personal brand and market it Sell yourself by highlighting skills, awards, and endorsements Get connected with LinkedIn groups Manage and make introductions via InMail Relationships matter: LinkedIn For Dummies gives you the online social skills to turn six degrees of separation into the colleagues, mentors, and friends who will transform your career—and your life.
Explore Book
Buy On Amazon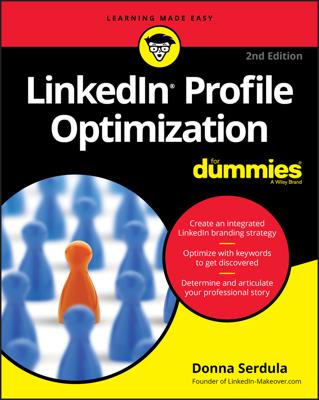 LinkedIn
LinkedIn Profile Optimization For Dummies
Give your LinkedIn profile the makeover it deserves—and get the attention you deserve Look at your profile: you know it could be a little better. Too many LinkedIn users are just posting a basic resume and hoping for the offers to come flooding in, missing out on the incredible opportunity the platform offers to properly showcase their talents, products, and services to 610 million professionals in over 200 countries. LinkedIn is way more than a resume tool—to display your professional past and present—it's also your career future and personal brand. Used to its fullest extent, it helps you demonstrate the unique value and culture you provide, the skills and aspirations that make you different, to get the outcomes you truly want. But how's it done? Profile branding expert Donna Serdula pioneered the concept of LinkedIn Profile Optimization and through her Website, LinkedIn-Makever.com, has helped over 5000 professionals use LinkedIn to achieve increased success. In this guide she applies that experience to help you use all of LinkedIn's capabilities to meet your goals, whether they be job search, reputation management, or sales—including how to: Create a memorable, successful profile Optimize personal keywords Showcase your experience, accomplishments, and unique value Use LinkedIn features to grow your network and more You never get a second chance to make a first impression—and people are Googling you right now: Get a fresh online look and get results!
Explore Book
Buy On Amazon
LinkedIn
LinkedIn Sales Navigator For Dummies
Make selling a social affair! The ABCs of sales have changed. It's no longer: A-Always, B-Be, C-Closing. The new way of selling is: A-Always, B-Be, C-Contributing to your buyer's journey. Social selling is an effective way to engage with your customer, and the world's most powerful social selling tool for any B2B sales professional is LinkedIn Sales Navigator. It allows you to gain access to more leads, more InMail, and data to track your efforts. With the help of LinkedIn Sales Navigator For Dummies, you'll learn how to write effective InMail messages and engage with prospects on the world's most successful professional networking site. Along with utilizing those features, you'll also benefit from access to full profiles outside of your network, guidance on how to best optimize your own profile for sales opportunities, and much more. Use lead recommendations to get in front of the right buyer Analyze your social selling efforts with real-time data Reach more leads with customized InMail messages Save 30 - 60 minutes a day previously spent on acquisitions If you're a B2B sales professional who is new to LinkedIn Sales Navigator, this is the one-stop resource you can't be without.
Explore Book
Buy On Amazon