They are almost synonymous: LinkedIn and job search. It's a shame, really. Often, connotation is what stops a lot of people from joining and interacting on this professional network. When you use LinkedIn for branding, reputation management, thought leadership, and business intelligence, a funny side effect happens. You don't have to look for a job because jobs find you. Nevertheless, many people get on LinkedIn for one reason only: to find their next opportunity.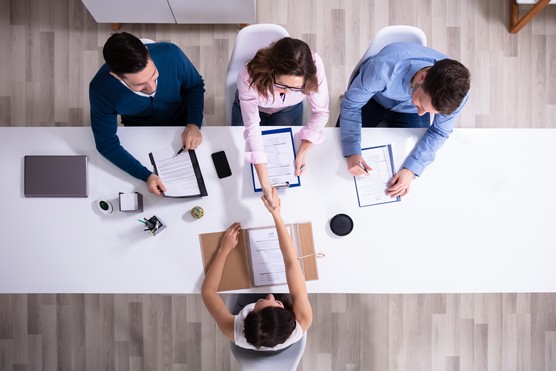 ©Shutterstock/Andrey_Popov
The hope for many is to get on LinkedIn and find themselves besieged by recruiters offering awesome jobs. It doesn't always work like that. Chances are, you already experienced that disappointment thus the purchase of this book.
Here are ten tips to help you utilize LinkedIn so you do intersect and collide with recruiters looking for someone like you.
Make it easy to connect the dots quickly
Harry Urschel, Managing Partner at Hansen Back, a Minneapolis-based retained recruiting and consulting firm, says it's important to make your profile easy to read and clear in what you do:

Any recruiter makes decisions very quickly when they are looking through LinkedIn profiles. Things that help in the process . . . The only way to get found is through appropriate search-terms/keywords. The headline has to be clear about what you do. The profile has to be easy to digest. Long paragraphs take too long to read. There are always more profiles to look at. Make yours easy for them to connect the dots quickly.

Spend time perusing job descriptions of positions you are interested in. The keywords that are used to describe the position are the keywords that should populate your LinkedIn profile. Make sure your profile is clear regarding what you do and what you bring to the table. Take a few seconds to break up long paragraphs by hitting the Enter/Return key on your keyboard.
Exhibit personality in your LinkedIn profile and show a cultural fit
Kris Dunn, VP of HR for Kinetix, a recruitment process outsourcing firm (RPO) for growth companies believes that a personality rich About section is what will get you noticed by recruiters and ensure the best cultural placement:

When positioning your LinkedIn profile, don't underestimate the deeper impact of spending quality time on your "About" section of your profile. I took the time to write something original that top-lined who I am as a professional and had fun with it, and I've been reaping the benefits for years. While showing your spirit and soul in the "About" section may be viewed by some as risky, I'm convinced you're more likely to find a cultural fit with your next company and boss by taking time in this important area of your LinkedIn Profile that most ignore.

Kris is also the author of The 9 Faces of HR: A Disruptor's Guide to Mastering Innovation and Driving Real Change.

Recruiters are pouring through hundreds of LinkedIn profiles. They read "dynamic, out of the box professional with progressive experience" over and over and over again. Take mercy on them! Rather than give them the same words they've already read a hundred of times, make them smile. Give them a chuckle. By doing so, you are standing out and making them like you.
Turn on LinkedIn's Open to Job Opportunities
Within the intro card of your LinkedIn profile is where you enable Open to Job Opportunities. out this section with as much information as you can. Be clear and concise.

Recruiter and job seeker ally, Ed Han, tells us:

On LinkedIn by far the best tool is to tell recruiters you're on the market. This is accomplished by going to your profile. Right below the section known as your intro card (name, headline, profile picture, location, etc., there's an option to tell the users of LinkedIn's Recruiter product that you're open to new opportunities.

You can identify 10+ desired job titles, 20+ communities in which you would like to be employed — particularly useful for those job seekers interested in improving their work/life balance due to a long commute — what type of employment (employee, contractor, part-time, remote), and 300 characters for any particular message you want to communicate, such as preferred organization sizes or types, or anything else you like.

If you are currently working, set this section to be visible to Recruiters Only. If you are displaced, you may decide to set it to be visible to everyone. People can't help you if they don't know you need help. Plus, not every recruiter is using the premium recruiting subscription.

To be seen by all recruiters, you need to be seen by everyone on LinkedIn. This section does become part of your professional brand, so keep an eye on it and make sure it comes off when you come off the market.

Keep in mind, this isn't a silver bullet. Absolutely fill this section out, but don't rely on it totally.
Use a good LinkedIn profile picture
Take a good, long look at your LinkedIn profile picture. This little tiny circular image transmits a ton of information. People form an impression about you from your profile photo, and they will also form one if one is missing.

One LinkedIn recruiter said, "If a person doesn't have a profile photo, I skip over them. If they don't take LinkedIn seriously, I don't take them seriously."

The moral of this story? Get a profile picture and make sure you look professional and friendly in it.
Provide contact information in your LinkedIn profile
Recruiters reach out to a lot of people on LinkedIn. Some are using the free version of LinkedIn, which means they need to be connected to you in order to message you on LinkedIn. Even those who are paying for LinkedIn can only send so many InMail messages each month.

What you can do to help them is provide your contact information throughout your profile. Add your phone number and email address in the About section of your profile and at the end of your current experience description. You can also make sure that within the settings of LinkedIn, you allow anyone on LinkedIn to see your email address.
Connect to recruiters on LinkedIn
Chances are, there are recruiters who specialize in your industry. Make sure you know who they are and that they know you. The easiest way to do this is to conduct a search on LinkedIn for recruiters that source talent for your industry. Conduct a people search by clicking into LinkedIn's search box and typing Recruiter AND [the name of your industry].

Scroll through the results and click on profiles that look interesting. When you find a match, send the recruiter a connection request. Include a note that states:

We don't know each other but I see you specialize in [insert your industry]. As a professional in this industry, I feel it would behoove us both to connect. I am open to new opportunities.

Keep it short and sweet! Recruiters don't have a lot of time for niceties.
Comment on recruiter's posts on LinkedIn
Many recruiters post their open positions on their LinkedIn feeds. Use LinkedIn's search bar to conduct a content search using the name of your desired next position as the keyword. You can also include the words "now hiring" or "job posting."

When you find posts that are interesting to you, you can either comment on the post (but remember that comment is public and will show up on your LinkedIn profile) or connect with the recruiter who posted and send him or her a message that you are interested in learning more.
Post, comment, and hashtag to engage with recruiters on LinkedIn
Recruiters are typically quite active on LinkedIn. Many of them aren't just conducting people searches using keywords. Some are monitoring hashtags and conducting content searches looking for the movers and shakers in the industry they are sourcing.

By posting quality content and including appropriate industry-related hashtags, you are putting yourself out there as an expert, and you may get noticed and found in an entirely different way.
Keep your LinkedIn profile up to date and fresh
LinkedIn rewards freshly updated profiles with higher placement in search results. Freshly updated profiles are more relevant than profiles that haven't been touched in months or years. Want to get found by recruiters? Make sure your profile isn't stale and doesn't get stale by updating it regularly.
Invest in your future
If you want to get noticed by recruiters, consider subscribing to LinkedIn's Premium Career product. When recruiters see you are a premium member, this indicates you are more serious about your job search.

Additionally, Premium Career subscribers get Featured Applicant Status on job applications so your profile sits above those members using the freemium version of LinkedIn.

You get what you pay for, so pay some money and get noticed faster! LinkedIn may surprise you with a free month of premium, so check it out.

Want to make more of your LinkedIn profile? Check out this list of LinkedIn profile do's and don'ts.
About This Article
This article is from the book:
This article can be found in the category: