Signing on to LinkedIn means you're part of the largest online professional network in the world. Look here for helpful guidelines for using LinkedIn, especially when job searching. LinkedIn helps you create and maintain an online profile you can then use to build a professional network.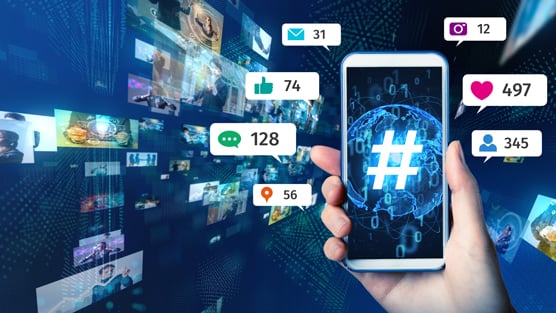 © metamorworks / Shutterstock.com
10 Steps to Build Your LinkedIn Network
The more you do, the more contacts you could have in your LinkedIn network! If you want to build and expand your LinkedIn network, follow these steps:
Fill out your LinkedIn profile completely.
Check for former colleagues and classmates who are on LinkedIn by using specific LinkedIn searches.
Import your email contacts.
Add former email addresses to your account so past connections can find you more easily.
Check for people who share an offline group or affiliation with you.
Go through your business cards for potential contacts and search for them on LinkedIn. Send them an invitation or a request to join.
Search through your first-degree network connections.
Advertise yourself by joining and participating in LinkedIn groups.
Go through your news feed and participate with other members by liking, commenting, and sharing their posted content.
Meet people on LinkedIn (through LinkedIn groups and company pages as well as your news feed discussions) and then invite them to join your network.
10 Tips for Enhancing Your LinkedIn Profile
Your LinkedIn profile page is your personal home page to the business world. To enhance your profile, log in to your LinkedIn account, click Profile, and choose Edit Profile from the top navigation bar that appears. Then follow these tips:
Create a customized URL. For example, you can set up your LinkedIn profile to be found at linkedin.com/in/joelelad instead of the default, which could be www.linkedin.com/in/4JPA678.
Add a professional-looking head shot photo to your profile (something classy).
Add your past employers so as many former co-workers as possible can find you.
Make sure your professional headline emphasizes what you can do for a future employer as well as any keywords you want to use to promote yourself.
Make your profile public and set it to full view so your LinkedIn profile shows up in web search results.
Add links from your LinkedIn profile to websites you are trying to promote, such as your blog, social media accounts, or company website.
For website links that you add to your profile, select Other and rename each link to include meaningful keywords. For example, instead of calling a blog "My Blog," call it "Joel's E-Commerce Product Blog."
Include all of your main email addresses in your profile so people can connect with you. LinkedIn does not display your email addresses to the public; it simply keeps your email addresses on file when someone tries to connect with you.
Make sure the Summary field of your profile contains your critical skills and important career-related keywords in a way that makes the Summary readable (not a spammy list of keywords).
Upload examples of your work to your profile by attaching video, pictures, documents, or slide presentations.
General LinkedIn Tips
To make effective use of the functionality and advantages of LinkedIn, stay updated, and enhance your professional life, keep these helpful LinkedIn tips in mind:
Start leaving recommendations for first-degree network connections that you feel have earned a great one.
Invest a good amount of time upfront to create a professional, detailed profile.
Spend a small but productive amount of time, on a consistent basis, to update and maintain your LinkedIn network and profile.
Use lots of search terms in advanced search to find the right person. If you do not get any results, remove one or two words and try again.
Research someone on LinkedIn before meeting the person in a job interview or business meeting.
Use LinkedIn's platform to write posts or share articles, and demonstrate your knowledge to the community.
Interact with your network through news feed updates by liking and commenting on other people's posts and articles that are published.
Use the LinkedIn status update function (Start a Post) to keep your network appraised of your activities.
LinkedIn Jobs: Search Tips
LinkedIn helps you harness the power of professional networking to conduct a job search. Here are some helpful hints when using LinkedIn to look for employment:
Make sure your LinkedIn profile and resume are up-to-date, accurate, and matches whatever you provide to a hiring manager or recruiter.
Stay on top of your network updates so you know if someone in your network has been promoted or switched jobs to a company where you would like to work.
Use the Advanced People search to find second- or third-degree network members who work at a desired target company. Use your first-degree connections to reach out to those people and ask for advice or an informational interview.
Connect with everyone you have worked with, because these people know your professional capabilities well and could potentially recommend you on LinkedIn.
Make sure your profile highlights measurable accomplishments you achieved at your jobs. For example, instead of saying that you "managed the sales force," say "I managed a 37% growth in revenue in the last four quarters."
When you view or edit your profile, turn on the feature that shows recruiters you're Open to Work.
Use LinkedIn Company pages to see which of your network connections works at a particular company, if anyone you know has recently been promoted at that company, and specific information about the company that you need for your cover letter and interview.
Don't forget to use LinkedIn's job board. Millions of postings are available when you search LinkedIn's job board.
If you find and apply for a job using LinkedIn's job board, see if the job poster is someone in your extended network. If so, ask for a referral or an introduction to that person (or, if necessary, use LinkedIn's InMail system) so you can connect with her and make a great impression!
About This Article
This article is from the book:
This article can be found in the category: