How to Subscribe to a Premium Account on LinkedIn
How to Subscribe to a Premium Account on LinkedIn
To upgrade to a premium account, start by creating your free account and using the various functions on LinkedIn. If you find that after some usage, you need to reach the larger community and take advantage of some of the premium account features, you can always upgrade your account and keep all your profile and network information that you previously defined.
If you're in charge of human resource functions at a small, medium, or large company and you are interested in using the Talent Advantage functions for your company, don't follow the steps in this section.
To subscribe to a premium account, just follow these steps.
1

Go to the LinkedIn home page. Hover your mouse over your photo or Account & Settings icon in the top-right corner of the home page.

Click the Review link next to Privacy & Settings.

2
At the Account & Settings page, click the yellow Upgrade button to bring up the premium account options.
LinkedIn accepts Visa, MasterCard, American Express, or Discover to pay for your premium account. Make sure the billing address you provide matches the credit card billing address on file.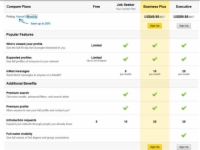 3
Click the Sign Up button for the premium level to which you want to upgrade.
Review the benefits before deciding which account is right for you.
5
Verify the information you've provided.
Scroll down and select the check box to agree to automatic billing every month and LinkedIn's Terms and Conditions.
6
Click the yellow Place Order button.
That's it! LinkedIn prorates your first month's charge based on how many days are left in the billing cycle, and it automatically charges your credit card each month afterward for the full amount, unless you bought a yearly plan, for which the charges renew every 12 months.
If you decide to stop subscribing to a LinkedIn premium account, you must go to your settings page, click Account on the left side of the screen, and then click the Downgrade or Cancel Your Premium Account link so you won't get billed anymore.