How to Send a LinkedIn Introduction
How to Send a LinkedIn Introduction
When you have prepared your messages (one to your contact and one to the recipient) and you're all ready to send a LinkedIn introduction request, just follow these simple steps:
1

While logged in to LinkedIn, search for the person you'd like to meet.

You can use the Search box at the top of any LinkedIn page, or you can click your Connections and search your friend's networks.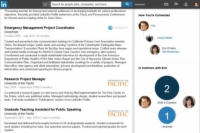 2

From the list of search results, click the name of the person you want to contact. (If you didn't find the person you're looking for, try another search.)

This step takes you to the recipient's profile page, where, as you scroll down the page, you should see two things: a chart along the right side of the page showing how you're connected to this person and a link entitled Get Introduced. (If you don't have anyone in your network yet, you won't see the chart or the link.)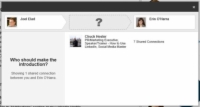 3

On the person's profile page, click the Get Introduced link to start the introduction process.

You see a pop-up window that starts the introduction process. Select the shared connection who you'd like to have make the introduction. In cases like this example, where there is only one shared connection, you still have to select the person to continue the process.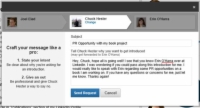 4

Write a subject line and add a message for the person who will be passing on your introduction.

Adding a note here is required so the facilitator (the person who receives the introduction request from you) knows why you want to reach the other party. After all, the facilitator is going to vouch for you when he sends this request to the intended party, so the more information you give, the better.
5

Click the Send Request button.

You see a pop-up window message as you're taken back to the person's LinkedIn profile page telling you that your request has been sent, and your first-degree connection will receive this introduction request in his LinkedIn Inbox.

After that, your facilitator friend will accept or decline your request, and you'll get a notification about the facilitator's decision. You can always view your introduction request in your Sent Messages folder.

Keep in mind some LinkedIn members are inactive or may not respond, so try not to take it personally. Move on to another potentially helpful contact.

You might want to send an e-mail to your facilitator friend first before starting the introduction process, especially if you think he might not want to forward your request, you want to make sure the facilitator has kept in contact with the intended recipient well enough to make the introduction, or the intended recipient might be too busy to receive an introduction request.

This also gives the facilitator a chance to let you know first that he is not interested or able in forwarding the introduction.