How to Import Webmail Contacts into LinkedIn
How to Import Webmail Contacts into LinkedIn
You can import your webmail program contacts list and feed it into LinkedIn to expand your network. Many people use a web-based program (webmail   ) to send and receive e-mail. Gmail (from Google), Yahoo! Mail, and Hotmail are among the most popular of these programs. All web based systems work similarly for importing contacts.
To import a webmail contacts list, just follow these steps:
1

Using your web browser, go to LinkedIn.

Log in to your account.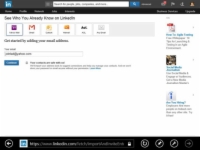 2

Click the Network link at the top of any LinkedIn page, and then click Add Connections from the drop-down list to bring up the Add Connections window.

The See Who You Already Know on LinkedIn page appears.
3

Click the appropriate webmail button, enter your e-mail address into the Email text box (and your password, when prompted), and then click the Continue button.

LinkedIn opens a new window in which you can connect with your webmail program. ( You are asked for your webmail e-mail password, so LinkedIn can log in to your account for you.)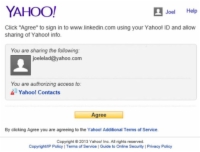 4

Follow the instructions to access your webmail account.

This example references a Yahoo! account, which will take you to the Yahoo! login screen. After you log in to your account, Yahoo! Requests permission to let LinkedIn access your Yahoo! contacts. You must click the Agree button if you want LinkedIn to import your contacts. After you do, LinkedIn automatically goes into the account and starts importing contacts, and you're returned to the LinkedIn website.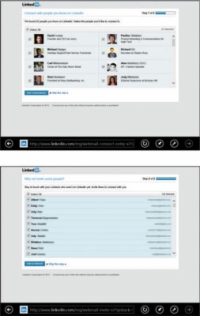 5

Review the imported contacts and who you want to invite to your LinkedIn network.

LinkedIn may select all your contacts who aren't yet connected to you via LinkedIn and offer to send them an invitation. If that is the case, deselect the check box next to each person you don't want to invite.

For some e-mail systems, you will see your imported contacts and have to manually select which contacts you want to invite by selecting the check box next to each person you want to invite. When you are ready, click the Add to Network button to send invitations to the contacts you wish to add to your network.

When you're done, close the newly opened window that was created back in Step 3 when you started the import process.