How to Find Newly Added Colleagues on LinkedIn
How to Find Newly Added Colleagues on LinkedIn
LinkedIn allows you to stay connected regardless of moves. There is no longer a need for the farewell lunch, where you trade information and promise to stay in touch. LinkedIn helps you maintain your connections.
Sometimes people you've fallen out of contact with have joined LinkedIn since the last time you checked, so do an occasional search to see whether you know any newly added colleagues.
When you want to search for colleagues (and add them to your network, if you choose), just follow these steps:
You should see a list on employers.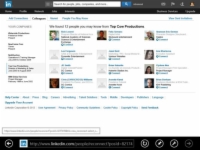 2

Pick an employer (current or past) from the list.

If there are no new connections, you see the message, "Sorry, we couldn't find any colleagues at Company X for you." Otherwise, you see potential new connections.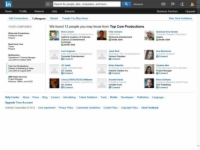 3

Go through the list of names to see names you recognize or wish to connect with via LinkedIn.

Click a name to see the person's profile for more information. If you want to invite someone to your network, click the Connect link below the name to have LinkedIn send that person an automatic invitation. The screen updates and you see an "Invite Sent" confirmation message in place of the Connect link.

It's a good idea to click the person's name, go to his profile, and then click the Connect button, so you can add a personal note with your invitation to help the contact remember who you are.
4

Check other employers to see if there are any new colleagues available.

You can repeat the process by clicking each employer from the list provided.