How to Find Newly Added Classmates on LinkedIn
How to Find Newly Added Classmates on LinkedIn
Through LinkedIn, you can reconnect with former classmates and maintain that tie through your network, no matter where anyone moves on to. For you to find them to begin with, of course, your former classmates have to properly list their dates of receiving education. And, just as with the search for former colleagues, it's important to do an occasional search to see what classmates recently joined LinkedIn.
To search for classmates — and to add them to your network, if you want — just follow these steps:
1

While logged in to your LinkedIn account, hover your mouse over the Network link from the top navigation bar.

Click the Find Alumni link from the drop-down list that appears.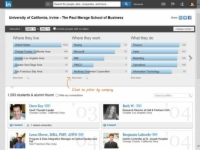 2

In the screen that appears, filter the results for a better list.

The Classmates window appears if you've prefilled in at least one educational institution. You can click any of the classifications, like "Where they live" or "Where they work" to add extra filters and get a more precise list. You can also change the years of attendance in the boxes provided to see a different set of candidates, or search by a specific graduation date.

If the screen is blank, you haven't yet added any education entries to your profile.
3

Look over the list of potential classmates and connect with any people you recognize.

You can always click the name of the classmate to see her profile first, or just click the Connect link below the name to send an invitation to connect. If there are any shared connections, you can click the words "X shared connections" to see what connections you have in common.

Before you invite people, click their name to read their profiles and see what they've been doing. Why ask them what they've been doing when you can read it for yourself? By doing your homework first, your invitation will sound more natural and be more likely to be accepted.