How to Export LinkedIn Contacts to Yahoo! Mail
How to Export LinkedIn Contacts to Yahoo! Mail
If you're using a web-based mail program, like Yahoo! Mail, you can follow this basic procedure to export your LinkedIn contacts into your webmail program to make contacting your professional contacts a cinch. This simple step may make networking and job searching easier than ever. After you create your export file, you can export your connections to Yahoo! Mail by following these simple steps: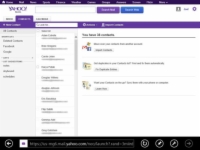 1

Using your web browser, go to Yahoo! Mail and log in.

Click the Contacts tab to go to the Yahoo! Contacts page.
3

Click the From File button.

The Upload from File screen appears.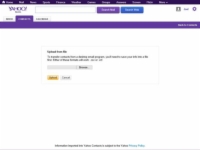 4

Click the Browse button to find the file on your computer.

Click the Upload button to send the LinkedIn contacts file to your Yahoo! account.

On the next screen, you see a summary page of the number of contacts that were successfully imported or not imported, and the number of duplicate contacts that were found. Click the View Contacts button to see your new contacts list, or click the Done button to finish the process.

Once you have finished, you are on your way to professional networking!