How to Build a Member List for Your New LinkedIn Group
How to Build a Member List for Your New LinkedIn Group
The easiest way to build your list of LinkedIn members is to use a spreadsheet program like Microsoft Excel and create a Comma-Separated Values (CSV) file, which is simply a text file of members and their e-mail addresses. You should definitely have your member list in front of you before starting this process.
If many of the members are already connected to you in LinkedIn, you can simply export your connections to start building your member list.
When you're ready to build your list of members, just follow these steps:
1

Open a spreadsheet program, such as Microsoft Excel. Choose File→New from the top Excel menu to create a new blank document.

In the first row, create these entries for the three column headers:

First Name

Last Name

E-mail Address

2

Starting in the second row, fill in the members' names and e-mail addresses.

As you fill in your list, it should begin to look like this.
4

Make sure that the Save as Type option is set to CSV (Comma-Separated Values).

Click OK when prompted.
5

Go to your LinkedIn account and click the Interests link in the top navigation bar, then click the Groups link to bring up your my Groups page.

Click the group logo to bring up your Group home page.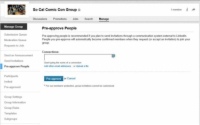 6

From your Group home page, click the Manage link to bring up the Manage Group page. Along the left-hand side of the Manage Group page, click the Pre-approve People option.

This brings up the Pre-approve People page for your group. At first, you're the only member of this new group.
7

Click the Upload a File link below the Connections box in the middle of the screen.

This brings up the Upload a File page.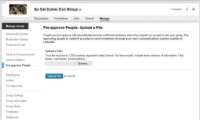 8

Click the Browse button to find the CSV file on your computer.

After you specify the file you want, click the Upload File button to upload the file (containing your list of members) into your group.

The next page attempts to determine whether the file was uploaded correctly.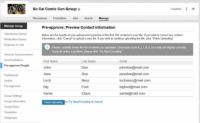 9

You should see your member list uploaded correctly. You have two options:

Finish Uploading: If LinkedIn brought in the first few names correctly with the right text encoding — which pretty much assures everything went according to plan — click the Finish Uploading button.

Try Next Encoding: If the names shown don't display correctly, click the Try Next Encoding link.

You're done! Your new members appear on the pre-approved list for this group.

You can always choose the Pre-approve People option and use the form to manually add names at any time.

If the e-mail address of a member's LinkedIn profile is different from the e-mail address you put in the pre-approved list, this member won't be automatically approved when he clicks the link. You have to manually approve him by clicking the Requests to Join link from the Groups page.