How to Browse Your LinkedIn Connections' Networks
How to Browse Your LinkedIn Connections' Networks
Finding connections from your LinkedIn connections is a good way to discover valuable connections. Although LinkedIn can help you search the network, sometimes nothing gives as good results as some good old-fashioned investigation. By browsing your connections' networks you might stumble across someone you need to get to know better.
To browse the network of one of your connections, follow these steps:
1

Click the Network link from the top navigation bar.

Choose Contacts from the menu that appears to bring up your network.
2

Click the name of a first-degree connection.

Alternatively, search for the name via the search box on the home page. Then, on the search results page, click the name you want.

When perusing the person's profile, look for a link on a number above the word Connections, which should be next to the name and below the professional headline: something like "174 connections." If you see the number of connections but that word isn't hyperlinked, you can't proceed because that person has chosen to make her connection list private. If that's the case, you need to select a different first-degree connection.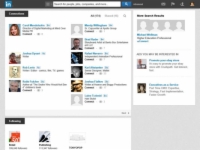 3

Click the Connections link of the first-degree connection.

Michael Wellman, of the Comic Bug in Redondo Beach, California is used for this example.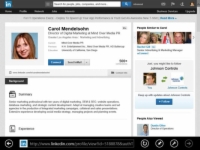 4

Look through the list to see whether you'd like to send an invitation to anyone. If so, click the person's name to pull up his profile.

A scan through Michael's list brings up his wife, Carol Mendelsohn, in his network. Click her name to bring up her profile.
6

Select the option that best describes your connection to this person or provide the person's e-mail address.

In some cases, you might have to input the person's e-mail address to help prove that you actually know the person. In other cases, you simply have to indicate whether you're a colleague, classmate, business partner, or friend, or have another association with this person.

It's a good idea to enter some text in the Include a Personal Note field. This text customizes your invitation, and you can use it to remind the person who you are and why you'd like to connect.
7

Click the blue Send Invitation button.

Presto! You're all done.