How to Approve Members to Your LinkedIn Group
How to Approve Members to Your LinkedIn Group
As more and more people find out about your new LinkedIn group, and as members start joining, you may find that some of the people who have clicked the link to join aren't on your pre-approved list. Perhaps they are people you didn't realize were on LinkedIn, or you didn't realize they were valid group members, or they clicked the wrong link and/or they don't belong in your group.
It can be helpful, from an administrative standpoint, to develop criteria or guidelines for people to join your group, so you can evaluate each request as it comes in. Consider talking to the governing members of your group to develop this in the early days of your group, so you don't have to worry about it later on when things get busy.
Regardless, you need to go into LinkedIn and either approve or reject people's membership requests so they can be members (or non-members) of your LinkedIn group. When you need to do that, just follow these steps:
1

From the top navigation bar, hover your mouse over the Interests link and then click the Groups link in the drop-down list that appears.

By default, you should see your Groups page, although all your group options are just a click away.

2

Scroll down (if necessary) until you see the name and logo of the group you are maintaining.

You can maintain more than one group.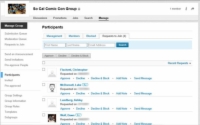 3

Click the Requests to Join link below the name of your group to bring up the Requests to Join page.

This step brings up the list of people waiting to be approved for your group.
4

To accept people, select the check box next to each person you want to approve to join your LinkedIn group, then click the Approve button.

You can approve people individually or all at once if you want. You can always select the person's name on the list to read his LinkedIn profile and decide whether he belongs in the group or send him a message through his profile.
5

To refuse membership, select the check box next to each person you want to decline membership to the group, then click the Decline button.

You can also click the Decline & Block button if you want to permanently block someone from trying to join the group.

Similar to the approval process, you can decline people one at a time or all at once. In either case (approval or decline), the user's name disappears from the Request to Join page. Lastly, remember that you can remove someone from the group membership at any time after you initially approved him.

If you're going to decline someone, you may want to use the Send Message option first, before declining him, to let him know why you are declining his request. After you decline that person, you won't be able to send him a message without using the InMail system.