How to Print Contacts from Mac OS X Snow Leopard's Address Book
How to Print Contacts from Mac OS X Snow Leopard's Address Book
If you want to print contacts from your Mac Address Book, you can choose from two different formats. By default, Address Book prints on standard U.S. letter-size paper (8.5 x 11 inches) in portrait orientation. You can change these settings easily, though: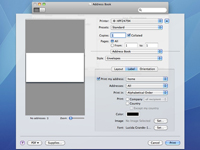 1

Press Command+P.

Address Book displays the Print dialog. To show all the settings, click the Expand button next to the Printer field, which carries a downward-pointing triangle.
2

If you need more than one copy, click in the Copies field to specify the desired number.

A single copy is the default.
3

If you're printing mailing labels, adjust the label settings.

Click the Style pop-up menu and choose Mailing Labels to specify what type of label stock you're using on the Layout panel. Click the Label button to sort your labels by name or postal code, choose a font, select a text color, and add an icon or image to your labels. To switch back to a standard contact list, click Style again and then click Lists.

You can also print envelopes and pocket address book pages in a similar manner; just choose the desired entry from the Style pop-up menu.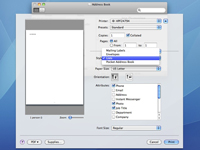 4

Select the desired Attributes check boxes to specify which contact card fields you want to appear in your list.

The Attributes list appears only if you're printing contacts in Lists style.
5

Click the Print button to send the job to the selected printer.

Alternatively, you can create a PDF file in a specified location if you'd rather not be burdened with paper, but you still need to consult the list or give it to others. To display the contents of a PDF file in Mac OS X, you need only double-click it in the Finder window, and the built-in Preview application is happy to oblige.