Apple Products
Surf with Safari, create a chart with Numbers Data, share your videos with iMovie, and lots more.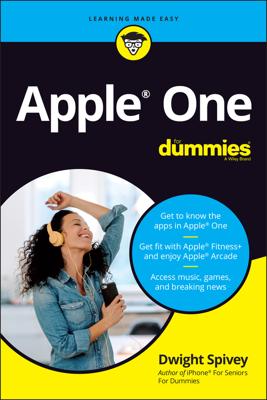 Apple Products
Apple One For Dummies
A bundle of Apple services, all in one place All your favorite Apple services are available in one convenient bundle, and Apple One For Dummies helps you get the full value out of your subscription. What's in this Apple barrel? Everything you need to stream music and TV, keep up with the news, play games, store files online, and even stay in shape. This book gives you a bundle of insight on how to choose the subscription level that's right for you, access and link all the services across your Apple and non-Apple devices, and use all the fun features of each service. This book takes you inside Apple Music, Apple TV+, Apple News+, Apple Arcade, iCloud, and Apple Fitness+, showing you how to make the most of each one. Apple One For Dummies also shows you how to make changes at any time, so you get all the juice out of your subscription! Get access to 50 million songs on Apple Plus Discover how the all-new Apple Fitness+ can transform your workout routine Use iCloud to store your photos and videos Understand Apple One's subscription options and get the biggest bang for your buck For Dummies welcomes you to the Apple One-stop-shop that will make your digital life that much simpler.
Explore Book
Buy On Amazon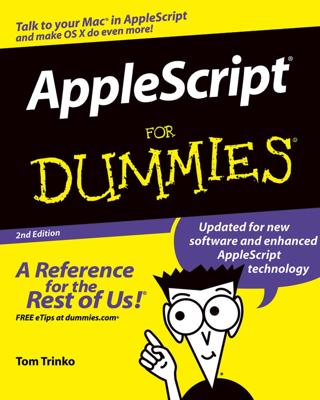 Apple Products
AppleScript For Dummies
Spending a little time with this book can save lots of time on the computer! AppleScript is object-oriented programming language used to write script files to automate tasks and customize applications for the Mac. AppleScript can automate much of what you do with your Mac computer, saving time and helping you be more productive. Businesses and individuals frequently use it for: Batch processing File conversion and manipulation Performing tasks at specified times Transferring information between databases and other applications Creating automated workflows by linking the actions of multiple applications to perform a series of related tasks Written by Tom Trinko, a Mac man since 1984,and author of articles for MacTutor and MacTech Journal, AppleScript For Dummies, 2nd Edition covers everything from the basics to more advanced stuff, with information on: Finding and installing AppleScript Using AppleScript to automate tasks in programs such as Word, Excel, FileMaker Pro, and the Mac OS Finder Arranging applications to work together to accomplish complex tasks Controlling applications that aren't even scriptable Taking advantage of tools that make composing AppleScript programs easy and fun Finding additional AppleScript information on the Internet and elsewhere With this book, you'll discover how to script Internet activities, iLife applications, and more. Then, instead of letting your computer and/or software dictate how you do things (and often, how you have to do them over and over and over), you take charge! You'll agree —this book is MacNificent!
Explore Book
Buy On Amazon