Music is a vital part of most movies (even non-musicals), setting the tone for your video, and Apple iMovies are no different. You can add music to your iMovie as a background score. Even better, you can also add other sound effects to movies in iMovie.
Click the Music and Sound Effects button, which is on the right side of the toolbar, or choose Window→Music and Sound Effects.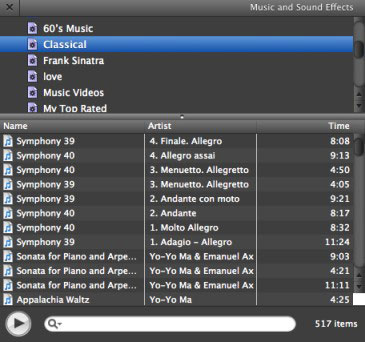 On the lower right of the screen, the Music and Sound Effects browser appears.
Click the source of your music or sound effects.
You have plenty of choices: songs in your iTunes library, music you composed in GarageBand, and dozens of canned Sound Effects, including booing crowds, crickets, thunder and rain, and an electric typewriter. Double-click a sound file to hear a preview.
Drag the music or sound effects file to the project background.
A green background appears at the beginning of the first clip and lasts for the duration of the shorter song or video.
If you want to trim the music clip, choose Edit→Trim Music. To choose a spot where the video starts and ends, drag the selection handle.
The video plays in the viewer to help you decide which spot to choose. Click Play to preview the job.
When you're finished, click Done.
To remove the background music, select the music by clicking behind the video clips, and press Delete.
About This Article
This article can be found in the category: