Videoconference Software Books
Because a phone call just isn't what it used to be. These days, people like to see each others' faces. Have a look at our latest videoconference software articles to make the most of your next Zoom, Webex, or Skype call.
Videoconference Software
Books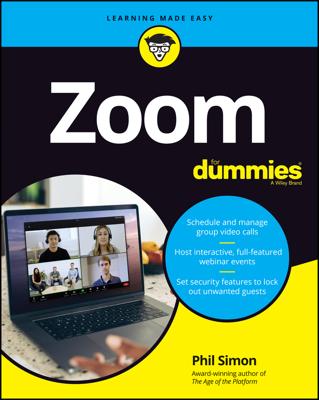 Zoom
Zoom For Dummies
Zoom into the new world of remote collaboration While a worldwide pandemic may have started the Zoom revolution, the convenience of remote meetings is here to stay. Zoom For Dummies takes you from creating meetings on the platform to running global webinars. Along the way you'll learn how to expand your remote collaboration options, record meetings for future review, and even make scheduling a meeting through your other apps a one-click process. Take in all the advice or zoom to the info you need - it's all there! Discover how to set up meetings Share screens and files Keep your meetings secure Add Zoom hardware to your office Get tips for using Zoom as a social tool Award-winning author Phil Simon takes you beyond setting up and sharing links for meetings to show how Zoom can transform your organization and the way you work.
Explore Book
Buy On Amazon
Videoconference Software
Skype For Dummies
Here's the fun and easy way to understand all the hype about Skype and make this cool alternative communication system work for you People love Skype because it's fairly simple to use, it's free, it doesn't have advertisements or pop-up screens, and its communications are encrypted and secure. If you want the ability to make free voice calls or want to maximize Skype and get the most out of this free global telephony system, you've come to the right place. All you need to get going with Skype is a computer with Internet access, a headset or microphone -- and this book! Although the technology is simple, it has some complexities when you go beyond making simple calls. Skype For Dummies covers call forwarding, voice mail, and conference calling and explains the use of two very popular and important Skype features: SkypeIn: Receive telephone calls that you can answer through Skype on your computer SkypeOut: Make calls out to regular old telephones from your computer This no-nonsense guide is written in plain English, leaving the jargon at the door. You'll learn to Install and configure Skype on different platforms and various mobile connections Create a contacts list Set up voicemail and call forwarding Use Skype for worldwide conference calls and Skypecasting Enhance Skype with Bluetooth, Wi-Fi wireless, and video Change your Skype menus to a different language Adjust different hardware configurations and add-ons Troubleshoot problems with hardware configurations and other common issues Skype For Dummies provides guidance on using this technology in a business setting, including some implementations that can help reduce support desk costs and automate surveys and interviews. A popular use of Skype is for video calling, and the book shows how you can easily install and configure this can't-miss feature. A dedicated web site keeps the book up to date as Skype adds new features. Additionally, you'll discover ten ways to use Skype to promote your business and ten ways to use Skype at school. With an appendix on multilanguage support and another on tips and tricks, you won't want to Skype anyone until you have your copy of Skype For Dummies in hand.
Explore Book
Buy On Amazon