No one forces you to enable video during your Zoom meetings. You can always join via audio only. Still, from time to time you're going to want the world to see you.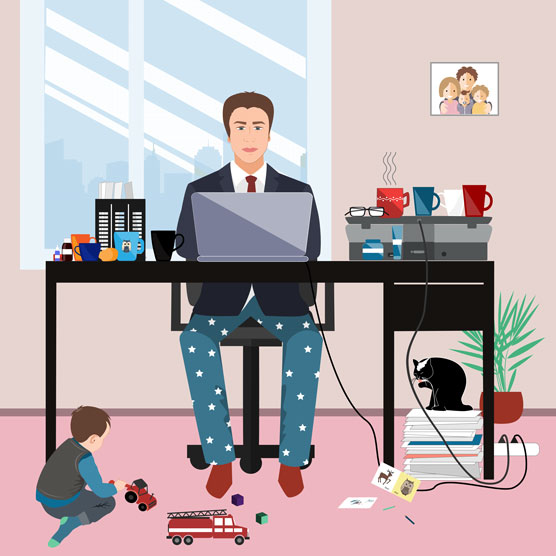 ©Toltemara/Shutterstock.com
Looking your best in Zoom
A seldom-used Zoom feature called Touch Up My Appearance purportedly helps smooth out the skin tone on your face. No, it won't transform me into Brad Pitt or Idris Elba, but think of it as the equivalent of putting on some digital makeup.

Follow these directions to enable this feature:
Launch the Zoom desktop client.
Click on the Settings icon in the upper-right hand corner. Zoom displays your settings.
On the left-hand side, click on Video.
To the right of My Video, select the Touch up my appearance checkbox.
Refrain from looking at other devices and screens during your meeting, especially if you've enabled video. Others will quickly pick up on your lack of concentration.
Presenting a professional appearance in Zoom
Kerry Barrett runs a full-service, media-prep, training, consulting, and camera-readiness firm based in New Jersey. She is a 20-year veteran of the broadcast news industry and an Emmy-Award winning TV news anchor, reporter, and producer.

People often ask me, "How can I make myself look as good as possible on my Zoom meetings?"

Here are a few simple tips on improving your shot. By following them, you will subtlety encourage meeting participants to engage with you.
Lighting: If you sit in front of a bright window or lamp, then you'll be in silhouette. Likewise, don't sit directly under a bright lamp. Always place light directly in front of you.
Webcam: Place it at or slightly above eye-level. No one needs to see your nostrils, half of your face, or your kitchen ceiling.
Framing: TV stations deliberately shoot anchors from the mid-chest or mid-torso. By doing this, viewers can see the anchors' eyes and begin to establish trust with them. The same idea applies to your Zoom meetings. Also, remove the dead space around you. Place your head slightly below the top of the video box. Finally, sit front and center in front of your computer or tablet. Your body should fill up the video screen.
Personal appearance: Avoid wearing red and white colors during your meetings. The first two notoriously cause lighting issues. Instead, consider a brighter hue that makes you pop against your background. Wear company-branded apparel if it fits into those parameters.
Background: Viewers tend to find neutral backgrounds less off-putting than dark ones. What's more, they provide invaluable contrast. (Gangster move: If possible, hold your meeting in a room with light gray walls.)
If you take my advice, then you'll look your best during your Zoom meetings.

To enable video during on Zoom's desktop client, you need to use your laptop's internal webcam or an external one.

Projecting a more professional visage isn't hard — in other words, to avoid the nostril-cam previously mentioned. Just prop your laptop up on some books. If that doesn't work for you, then consider purchasing a proper laptop stand. For years I've happily used an inexpensive AmazonBasics ventilated one. As for external webcams, arguably the hottest one on the market now is the Logitech BRIO.
How to optimize sound quality in Zoom
Of course, how you present yourself to others represents only part of the meeting experience. The other side is how you sound during your meetings — and, for that matter, how other participants sound to you. At a high level, a good deal hinges upon the quality of your computer's audio components. Contrary to what you may think, newer computers don't necessarily ship with better hardware in this regard than older ones did.

Plenty of folks aren't satisfied with the sound emanating from their computer's native microphones and speakers. If you find yourself in this boat, you can tweak your computer's audio settings. Still disgruntled? Then consider purchasing an external microphone. I'm a fan of the Yeti Blue.

As for headphones and speakers, I have found tremendous variation among Bluetooth devices. Some models work seamlessly, while others cut in and out throughout meetings.

Ask a trusted friend for honest feedback on A/V situation.

Finally, don't expect first-rate audio and video quality during Zoom meetings if your Internet connection is spotty. Zoom can only do so much. If you're having a tough time hearing others and vice versa, consider disabling your video. Ask others in the meeting to do the same.

Your overall audio and video quality during Zoom meetings stem from a number of factors. If you're experiencing problems, use the process of elimination. For example, try to connect to a friend's network when taking Zoom meetings. Does performance improve? Use a family member's computer instead of yours. Eventually, you'll figure out what's causing your issue.
About This Article
This article is from the book:
This article can be found in the category: