Music Recording Software Books
Get in the groove without missing a beat. Whether you're mixing, recording, or adding a drum kit, you'll find everything you need here to create the perfect track.
Music Recording Software
Books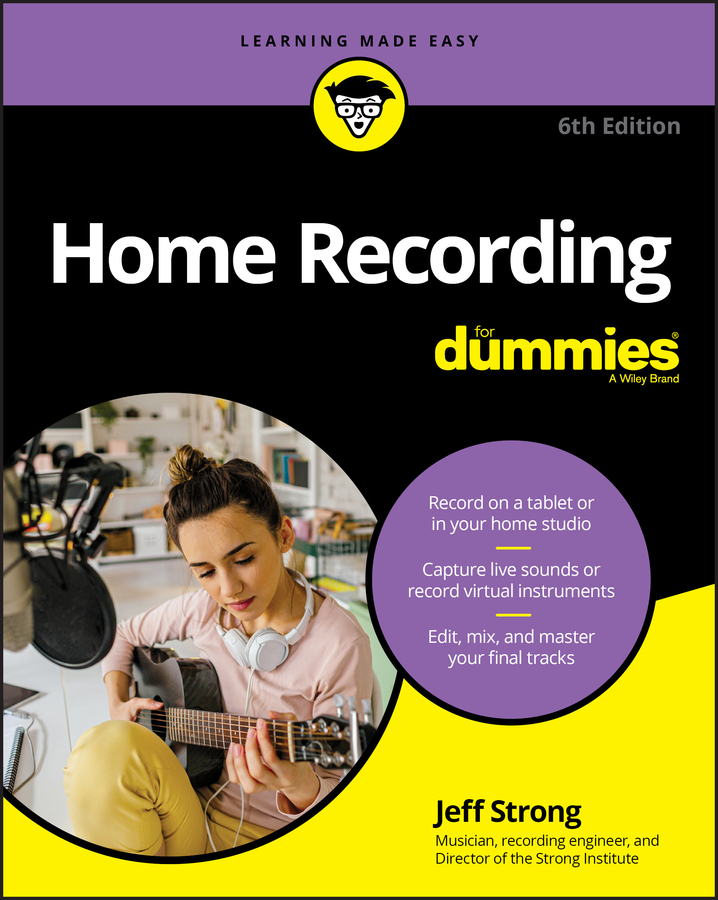 General (Music Recording Software)
Home Recording For Dummies
Published 11-03-2020
Make your next track a studio-quality gem with this celebrated recording guide
Have you ever dreamed of producing the next big song? Or maybe you need some hints on the recording gear used to create pro podcasts? With just a little bit of guidance, there's nothing stopping you from creating crystal-clear, studio-quality tracks from the comfort of your own home. In Home Recording For Dummies, expert sound engineer and celebrated author Jeff Strong demystifies the world of recording and walks you through every step of creating high-fidelity audio.
With this book at your side, you'll discover how to choose a room that fits your studio needs, get the hardware you can't live without, choose the right microphone for the task at hand, record live and virtual instruments, build rhythm tracks and loops, and edit, mix, and master your recording.
Learn how to:
Set up your home studio, acquire and connect all the right gear, and build multi-track recordings
Understand the different types of microphones and the best use for each
Record audio from live sound or virtual instruments
Edit your tracks for better project management
Mix and master your music for public consumption
Home Recording For Dummies is the must-read guide that helps home create high-fidelity, multi-track songs and recordings that blow audiences away.
Explore Book
Pro Tools
Pro Tools All-in-One For Dummies
Published 10-16-2018
A complete Pro Tools reference - from recording to mixing to mastering
Pro Tools has long been the recording industry's leading solution for capturing, mixing, and outputting audio. While it was once a tool known and used exclusively by engineers in pro studios, it is now readily available to anyone wishing to create their own recording.
This updated edition of Pro Tools All-in-One For Dummies covers the features you'll encounter in both Pro Tools | First as well as the versions designed for next-level recording. It guides you through the very basics of recording, capturing both live and digital instruments, how to sweeten your sound in mixing, and how to tweak and output your final master. Now get ready to make some beautiful sounds!
Get up to speed with recording basics
Pick the Pro Tools version that works for you
Record acoustic audio
Get to know MIDI
Discover how to set compression and EQ
Sweeten your final product with mastering
Create a final file you can stream online
Assuming no past experience with audio recording, this book shares the basics of recording and how to capture both live and digital instruments using Pro Tools.
Explore Book
Logic Pro X
Logic Pro X For Dummies
Published 09-05-2018
Spend less time learning and more time recording
Logic Pro X offers Mac users the tools and power they need to create recordings ready to share with the world. This book provides the know-how for navigating the interface, tweaking the settings, picking the sounds, and all the other tech tasks that get in the way of capturing the perfect take.
Written by a Logic Pro X trainer who's used the software to further his own music career, Logic Pro X For Dummies cuts back on the time needed to learn the software and allows for more time making amazing recordings.
Record live sound sources or built-in virtual instruments
Arrange your tracks to edit, mix, and master
Discover tips to speed the process and record on an iPad
Make sense of the latest software updates
A favorite among Logic Pro X beginners, this book is updated to reflect the ongoing changes added to enhance Logic Pro X's recording power.
Explore Book