GarageBand for the Mac is a complete recording studio that includes hundreds of realistic-sounding instruments, effects, and presets configured by experienced recording engineers.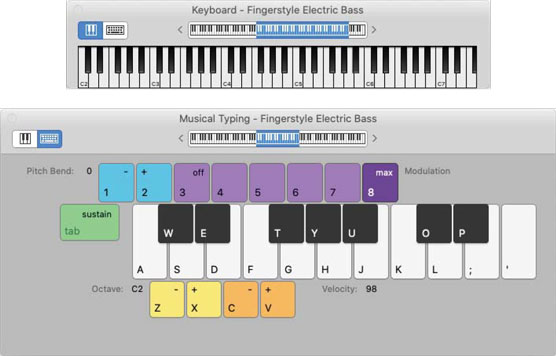 GarageBand for Mac has a tiny on-screen keyboard (top) and musical typing keyboard (bottom), in case you don't have an external piano-style keyboard handy.

GarageBand for the iPad and iPhone is also a complete recording studio, but the iOS and iPadOS versions are designed for the touchscreen and include realistic-sounding Touch Instruments you "play" onscreen.

In a nutshell, GarageBand — on either platform — combines everything you need to record, mix, master, and share music with others.

GarageBand's default settings and templates are a big part of the reason why GarageBand is so great, especially for beginners. The instruments and audio effects sound great right out of the box, and they rarely require much (if any) tweaking. It's kind of like having a crew of professional recording engineers inside your Mac or iDevice.

There has never been a program quite like GarageBand; it's the perfect introduction to multitrack audio recording on Apple devices. GarageBand is easy, friendly, forgiving, and fun on all platforms, and you can't beat the price.

Multitrack recording means recording instruments or vocals with each instrumental or vocal performance recorded on its own track. The sound contained on each track can be adjusted independently of other tracks. Ultimately, the tracks are combined (that is, mixed) in a pleasing manner to create the final product.

If you're new to this audio thing, nothing else even comes close to GarageBand. You're gonna love it.
What can you do with GarageBand?
GarageBand does things that used to require hours in an expensive recording studio. The following is a fairly comprehensive list of what you can do with GarageBand:
Record vocals.
Record acoustic instruments.
Record software instruments via MIDI (Musical Instrument Digital Interface).
Record electric guitars and basses with GarageBand's virtual amplifier models, so that you can get just the sound you want.
"Punch in" to a section of an otherwise excellent track to re-record over your mistakes.
Adjust the sonic (sound) characteristics — volume, equalization, echo, reverb, and so on — for each track individually (all these elements are part of mixing a song) and for the song as a whole (in other words, mastering).
Make music using prerecorded loops.
Combine (mix) multiple tracks of music or loops or both into a two-track (stereo) song file.
Record a track while listening to (monitoring) one or more other tracks.
This list doesn't cover everything you can do with GarageBand, but it at least gives you the gist of the cool stuff you can do.
What can't you do with GarageBand?
Well, there's not much GarageBand can't do. GarageBand's biggest shortcoming (versus more sophisticated recording-studio-type software or an analog recording studio) used to be that it allowed you to record only one track at a time.

That shortcoming is long gone. Today's GarageBand supports recording on as many tracks at once as your hardware interface and Mac support. Today, its fewer remaining shortcomings are less troubling.

Although you can change the time signature anywhere in a song without missing a beat (pun intended), it's not easy. So, if you tend to write songs with multiple time changes, GarageBand may not be the best tool for you.

Moving right along, some other things you can't do with GarageBand include typesetting a book, removing red eye from a digital photograph, and sending your mom an e-mail message. But you knew that already.

Finally, it's possible to create a song that has too many instruments, effects, or tracks for your Mac or iDevice to handle. The older your device (and the less RAM it has), the more likely you'll encounter this issue sooner rather than later. Although this problem can happen when you use higher-end audio software, it happens sooner and with fewer tracks, effects, or instruments in GarageBand.

Suffice it to say that newer Macs and iDevices run GarageBand more efficiently than older ones.
About This Article
This article is from the book:
This article can be found in the category: