GarageBand
Drumroll, please…GarageBand is a full-featured music creation app for Mac and Windows. Teach yourself to be a music producer and creator with these quick articles.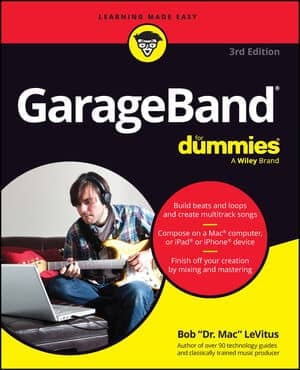 GarageBand
GarageBand For Dummies
Put together great-sounding audio tracks on Mac, iPhone, or iPad GarageBand For Dummies gets you started with the popular audio software included with Apple devices. This simple app lets you do everything from building basic beats to creating multi-track recordings. You'll learn how to build a song from the ground up in this beginner-friendly Dummies guide. Follow simple, step-by-step instructions that guide you through building percussion loops, adding melodies, and recording live vocals or other instruments. When your masterpiece is complete, this book shows you how to mix and master your tracks and get them ready to share with the world. You, GarageBand, and GarageBand For Dummies are about to make beautiful music together. Learn the GarageBand interface and set up recording sessions Set up your recording space to get the best quality audio from vocal and instrument sessions Add beats and loops or perform on built-in instruments Blend your tracks into a final mixFor easily creating recordings and demos using the free GarageBand app, this is the book you need.
Explore Book
Buy On Amazon