Pro Tools
Put the pro in Pro Tools with these quick and friendly tips.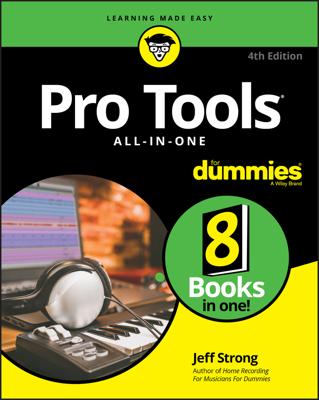 Pro Tools
Pro Tools All-in-One For Dummies
A complete Pro Tools reference - from recording to mixing to mastering Pro Tools has long been the recording industry's leading solution for capturing, mixing, and outputting audio. While it was once a tool known and used exclusively by engineers in pro studios, it is now readily available to anyone wishing to create their own recording. This updated edition of Pro Tools All-in-One For Dummies covers the features you'll encounter in both Pro Tools | First as well as the versions designed for next-level recording. It guides you through the very basics of recording, capturing both live and digital instruments, how to sweeten your sound in mixing, and how to tweak and output your final master. Now get ready to make some beautiful sounds! Get up to speed with recording basics Pick the Pro Tools version that works for you Record acoustic audio Get to know MIDI Discover how to set compression and EQ Sweeten your final product with mastering Create a final file you can stream online Assuming no past experience with audio recording, this book shares the basics of recording and how to capture both live and digital instruments using Pro Tools.
Explore Book
Buy On Amazon