Animation Software Books
Sometimes you need to make a static image do something. That's where animation software comes in. Check out our articles on bringing pictures to life.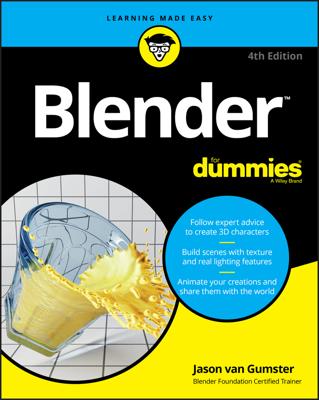 Blender
Blender For Dummies
Make your 3D world a reality Some of the dramatic visual effects you've seen in top-grossing movies and heralded television series got their start in Blender. This book helps you get your own start in creating three-dimensional characters, scenes, and animations in the popular free and open-source tool. Author Jason van Gumster shares his insight as an independent animator and digital artist to help Blender newcomers turn their ideas into three-dimensional drawings. From exporting and sharing scenes to becoming a part of the Blender community, this accessible book covers it all! Create 3D characters—no experience required Build scenes with texture and real lighting features Animate your creations and share them with the world Avoid common rookie mistakes This book is the ideal starting place for newcomers to the world of 3D modeling and animation.
Explore Book
Buy On Amazon
General Animation Software
Creating Digital Animations
The easy way to start animating today! Creating Digital Animations is your ticket to learning animation! Learn how to animate your very own characters using Scratch—the free multimedia tool that lets you create interactive stories, games, and animations. Designed specifically for kids aged seven and up, this easy-to-follow, full-color guide introduces you to important game design concepts through three simple projects. Step-by-step instructions walk you through the four major phases of animation design, showing you how to turn your idea into a real animation with sound effects and more! You'll work just like the pros as you sketch out your main idea, add your own details, and develop a complete, workable character from scratch. If you're curious about coding, animation is the perfect place to start exploring. The Scratch platform doesn't require an actual programming language, but it gets you used to thinking like a programmer while you develop your very own animation. Short on rules but big on fun, this book is your friendly animation coach to get you started on the right foot. Use stick figures to design your characters' 'bones' Flesh out your design and animate movements Create scenes and background locations Add sound to take your animation to the next level Animation is fun! Building your own characters is exciting! And putting the finishing touches on your animation project shows you just how much you can learn while you play. Coding is a valuable skill that will serve you throughout school and beyond, and this book teaches you the basics in a way that leaves you hungry for more. Where will you take your new animation skills next? Creating Digital Animations takes you on the first steps of your journey to wherever you want to go!
Explore Book
Buy On Amazon
General Animation Software
3D Game Animation For Dummies
* For readers intrigued by 3D video games as a hobby or a potential career, this book offers an introduction to the world of 3D game animation and provides step-by-step instructions on creating storyboards, scenery, characters, and even software * Cover topics such as working with 3D coordinates, keyframing, NURBS modeling, lighting, rigging, skinning, particle effects, and more * Video game sales exceeded the movie industry's box office draw last year by $1 billion
Explore Book
Buy On Amazon